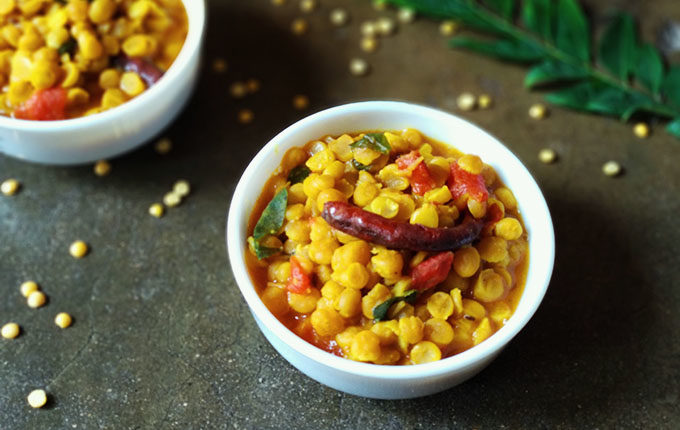 Chana Dal is a widely known legume curry recipe eaten all over India. It is prepared from Split Bengal Gram dal mixed with a few spices and nuts (optional).
The recipe of Chana Dal has gained popularity in almost every province of India. Though the taste and spices vary as per the regional preferences. Hence, the name of the dish also varies from region to region.
Like in Bengali cuisine, it is popularly known as 'Cholar Dal'. Chana Dal Fry is another variation cooked in North Indian households. If we move towards north eastern states, the dish is known by Booter Dal .
Chana Dal is very much common in south Indian dishes. It is used in almost every South Indian recipe as a tempering agent in the oil. Such as, Upma, Poha etc Chana dal is noticeably used along with the curry leaves.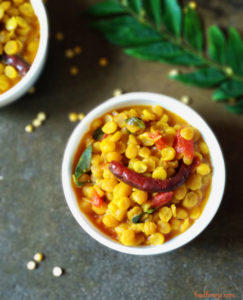 Well, every dal or legume is packed with a lot of nutrients and proteins. Chana dal or Cholar Dal is not an exception. It is a good source of Vitamin B complex such as B1, B2, B3 which plays an important role in metabolism.
High in fiber and protein content, Chana Dal is a really good choice to be included in our regular meals. It also comprises of other micro-nutrients such as Magnesium, Potassium, Zinc, Phosphorus, etc. It is low in sodium content and fat levels which makes chana dal an aider in weight loss.
This is the dal that is grounded to form a powdered mixture called as 'Besan'. Besan is another healthier food required to prepare many dishes such as Besan ka Ladoo.
Bengali version of Chana Dal:
Being born and brought up in a Bengali family, I have always known this dish as 'Cholar Dal'. For us, Cholar Dal is more than a food. It's an emotion to every Bengali.
Cholar Dal is such an authentic Bengali dish that is cooked in any auspicious season. Be it Durga Puja or Bengali Nababarsha (Bengali New Year), Cholar Dal is a must-to-have dish in our households.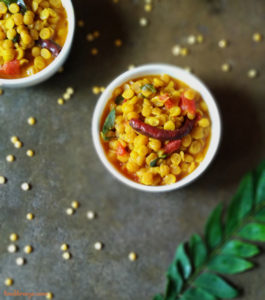 Especially on Durga Ashtami, we Bengalis serve Cholar Dal along with hot Luchi(Pooris). It must be included in a traditional Bengali Thali (both veg and non-veg thali).
Even we serve Cholar Dal along side Fried Rice or Basanti Polao as well.
The Bengalis do not require any special festivity to eat good foods. We can enjoy such delicacies on normal days also, be it a Sunday morning breakfast or anything.
Being a Bengali, I generally prepare Chana or Cholar Dal a little sweeter in taste. We also add some dried nuts maybe cashew, raisins and coconut. The fried nuts along with a few tablespoon of Ghee adds a nice aroma and taste to this dal recipe.
But if you don't like sweet taste in dal curry, you can simply avoid adding sugar. Rather you can make it a bit spicy by adding more chilies or pepper powder.
Some quick tips:
Here are a few tips that might be useful to you in cooking the dish like a pro.
Since Chana Dal is a bit hard, soaking the dal in water for more time eases in cooking. I generally soak the dal overnight if I plan to cook it early morning in breakfast. This helps me in hassle free cooking during those busy hours. So I would recommend to soak it for at least 2-3 hours before cooking the dal. The more you soak the dal, easier for you to cook it in lesser time.
Always, cook the dal in pressure cooker till 4-5 whistles for better texture of the curry.
In North Indian chana dal fry, raisins or others sweetener or nuts are not used. It is simply cooked using basic Indian spices such as onions, tomatoes, ginger, garlic and cumin/coriander powder. But I would suggest you please do try this recipe along with a little sweetness.
You can serve this dish with rotis, pooris, parathas and steamed rice. I prefer to have Chana Dal along with Luchi or poori and sometimes with Sattu Rotis (sattu stuffed rotis).
Some more Bengali recipes that you make like to see:
Without much delay, let's start with recipe.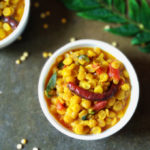 Print
Chana Dal, Bengali Cholar Dal Recipe
Chana Dal is popularly known as 'Cholar Dal' in Bengal. It is prepared from chana dal (Split Bengal Gram) mixed with a few spices and nuts (optional).
Ingredients
150-200

grams

Chana Dal

1-2

Bay Leaves

1-2

dry red chilly

1

teaspoon

Cumin seeds

1-1.5

teaspoon

Badam or Peanuts

1

tablespoon

Raisins

4-5

tablespoon

Mustard Oil

You can use vegetable oil or Ghee instead.

1

medium-sized

Tomato

2-4

Green Chilies

Salt and Turmeric as required

1/2-1

teaspoon

Sugar

(optional)

1/2

teaspoon

Red Chili powder

Water as required

1

tablespoon

chopped Ginger and Garlic

You can use Ginger and Garlic paste in the same quantity.
Instructions
How to prepare Chana Dal - Step by Step Recipe:
First, rinse off the chana dal in water very well. Soak it in water for at least 1-2 hours.

After 2 hours, wash the dal once again. Pressure cook the dal on high flame till 4-5 whistles or as required. Make sure the dal is cooked well.

While the dal is getting cooked, chop the tomato into small pieces. Also chop some ginger and garlic.

Now, heat some mustard oil in a heavy bottomed pan. Temper it with few cumin seeds, bay leaves and dry red chilies. Also add a few peanut or badam if you want.

Then, add the chopped tomatoes and ginger and garlic. Stir fry for 3-4 minutes till the raw flavor is gone.

After that, goes in the cooked chana dal.

Sprinkle a little salt as per taste. Also add turmeric and red chili powder.

Add some cumin and coriander powder.

Next pour some extra water if required.

Mix all the ingredients very nicely. Cover the pan with a lid and let it cook on medium-high flame for about 5-8 minutes. Turn off the flame when the curry consistency becomes perfect for you.

Chana Dal is ready to be served.