Aloo Posto is one of those special dishes listed in authentic Bengali Cuisine. It consists of grounded poppy seeds (Posto) cooked together with potatoes (Aloo).
Well, we Bengalis have a whole long list of dishes that we love to cook and eat. Aloo Posto belongs to that category. We love to include this in our daily lunch menu.
The traditional recipe includes a creamy paste of poppy seeds, Aloo and, a dash of Mustard Oil.
The Bengalis would love to serve it with plain Rice, Dal and, some crispy Aloo Fries (Potato fries). Though you can have it with Parathas and Pooris as well.
I personally prefer to pair Aloo Posto with some rice and dal. Nothing would beat this combination. Trust me. It tastes like heaven.
Aloo Posto is more than food to us, it is an emotion. If you are not getting it, then please try out this recipe once and you will love it.
Every traditional Bengali Thali must have Aloo Posto included in it.
Nutritional benefits of Poppy seeds:
The key ingredient of this recipe is Posto or the Poppy seeds. There are a lot of nutritional benefits of these seeds. Poppy seeds are very low in cholesterol.
Being a good source of dietary fiber, it is also rich in minerals like Iron, Calcium, Potassium, Zinc, Magnesium. A rich source of omega 3 fatty acids and carbohydrates, Poppy seeds help in boosting the immune system and energy levels in the body as well.
Poppy-seed is an oilseed obtained from the opium poppy. These tiny, kidney-shaped seeds are said to have been harvested by various civilizations for thousands of years. Its cultivation can be traced back to the Sumerian civilization.
Even in some of the European places, they sprinkle poppy seeds over the burger buns. They also consume it in the form of candy or bar mixed with honey.
Many of the regional Indian dishes use using poppy seeds as a paste to enhance the texture of the gravy. Though it is more popular in Bengali cuisine.
The Bengalis prepare a lot many dishes with Poppy seeds or Posto. Such as Jhinge Posto (Ridge Gourd mixed with poppy seeds paste), Potol Posto (Pointed Gourd or Parwal in Hindi), Peyaj Posto (Onions sliced and cooked with poppy seeds paste) and many more.
Even there is a special dish that we make by frying the Posto and we call it 'Posto Bora'. It is basically a fried cake which is truly a delicacy in Bengal.
And the list goes on. 🙂
Amongst all, the recipe prepared with Aloo and Posto is winning the race.
This heavenly recipe needs fewer ingredients available in our regular household. You just need some mustard oil, poppy seeds, and potatoes. That's it.
Some more Bengali recipes that you may like:
Without much delay let us start with the recipe.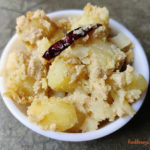 Print
Aloo Posto Recipe
Aloo Posto is one of those special dishes listed in authentic Bengali Cuisine. It consists of grounded poppy seeds (Posto) cooked together with potatoes (Aloo).
Ingredients
4-5

tablespoon

Poppy Seeds

1-2

tablespoon

Water

2-3

Green Chilies

2

medium-sized

Potatoes

Turmeric powder(optional) and Salt as required

1

dry red chilly
Instructions
How to prepare Aloo Posto - Step by Step Recipe
Grinding the Posto or Poppy seeds:
First take the poppy seeds in the smallest jar of your electric grinder.

Grind it to make a powder. Traditionally, we use mortar and pestle to crush the poppy seeds and make the paste. But now that this is not easily available in all the households, we use the grinder as a substitute.

Now, pour some water and a green chilly into the grinder jar.

Grind the mixture to form a smooth paste.
Boiling the potatoes:
Peel off and wash the potatoes very well. Boil it in the pressure cooker till 2 whistles.
Cooking the Posto:
Heat some mustard oil in a pan or kadhai. Temper it with a dry red chilly.

Now when the oil is hot enough, add the boiled potato pieces.

Fry the potatoes for 2-4 minutes till it becomes slightly brown. After that sprinkle some salt as per taste. You can add 1/2 teaspoon of Turmeric Powder for a light yellow color if you want.

Now add the Posto paste into the pan. Mix the potatoes so that they are nicely coated with the poppy seeds paste.

Add some water into the pan.

Cook it with occasional stirring for about 8-10 minutes till the water gets soaked and curry gets cooked nicely.

Your Aloo Posto is ready to serve. Enjoy this delicious bowl with your loved ones. Please do try this recipe and let me know how it turned out. 🙂