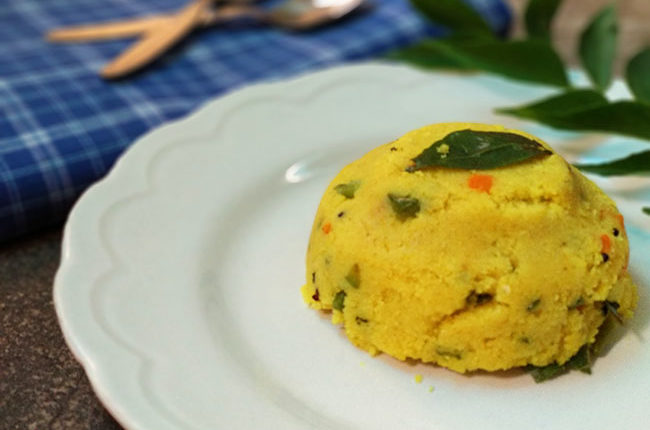 Suji Upma is basically a South Indian recipe made from Suji or Semolina. It has different names in different regions. Like in South India, it is mostly called as Rava Upma.
We in Bengal sometimes call it as 'Jhal Suji'. Jhal is a Bengali word which means tikha in Hindi or spicy. Suji is often prepared as a sweet dish as in Halwa or kheer. But in this recipe, suji is prepared in a totally different way using salt and spices. Hence it gets its name as Jhal Suji which basically means Salty Suji dish. I know it's quite a funny conception. 😀
Suji Upma is quite common in our breakfast menu. And this is because the recipe of Upma is very easy and also less time-consuming.
One can easily make it with a handful of ingredients. Even this dish can be packed for tiffin boxes for children as well. Or if you are such a person living alone in a city far away from your family, the dish comes as one of the good options for a quick breakfast.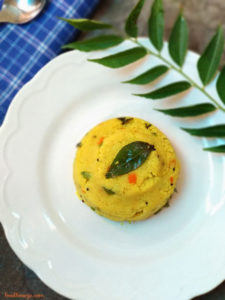 The Suji Upma is prepared from Suji along with colorful veggies and curry leaves. Some of the commonly used vegetables in this recipe include carrot, beans, capsicum, peas. Though you can use any seasonal vegetables available in the market.
Serving options for Suji Upma:
The authentic South Indian Suji or Rava Upma is served with some coconut chutney or filter coffee. However, I personally like to have it plain. Maybe some Chai (Tea) can accompany it.
I have heard from some of my friends that they like Upma with some tomato ketchup as well. You can try that also.
There are some tricks and ways to prepare Suji Upma perfectly. Please go through the points which I have mentioned below. This might be useful to you too.
Some quick tips:
One of the important tricks is the amount of water used in this recipe. The water quantity will define the texture of the Upma. There is a common saying that suji and water ratio should be 1:2. But this ratio does not go well every time depending on the quality of suji grains. In my recipe, I have used around 3 cups of water for 1.5 cups of suji or semolina.
If you want your Upma to be a bit thick like porridge, you can increase the amount of water. But if you like it to be a little bit moist and not too dried out, you can use suji: water = 1:3.
You can use chana dal and urad dal in this recipe since these are often used in an authentic Upma. However, this step is totally optional.
You can use several kinds of nuts in this recipe such as Badam (peanut), Cashew nuts, raisins, etc.
I personally add some sugar to make the Upma a bit sweet and salty. You can omit any kind of sweetener from this recipe and just make it with salt and spices.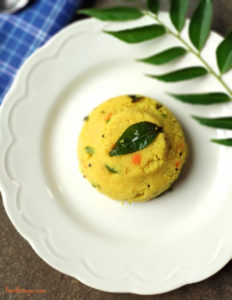 Some more breakfast recipes that you may like: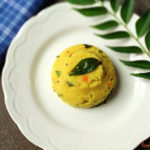 Print
Suji Upma
Suji Upma is basically a South Indian recipe made from Suji or Semolina. It is prepared from Suji along with colorful veggies and curry leaves.
Ingredients
1.5

cup

Suji or Semolina

3

cup

Water

Salt and Turmeric as required

1

tablespoon

Sugar

(optional)

1

small

Carrot

1/2

Capsicum

You can use any other vegetable of your choice.

1

tablespoon

Curry Leaves

1

teaspoon

Mustard seeds

1

Dry Red Chilly

1-2

Green Chilies

2-3

tablespoon

Ghee or Clarified Butter

You can use vegetable oil. But try to use Ghee for its aroma.
Instructions
How to prepare Suji Upma - Step by Step Recipe
Heat some ghee in a heavy bottomed pan on medium flame. Add the suji or semolina into the pan.

Roast the suji by continuous stirring so that it should not get burnt. Stirring will roast the suji evenly. When the color of the suji becomes slightly brown, a nice roasted aroma of the suji will fill the kitchen. At that time, remove the suji from pan and keep it aside.

In the same pan, add some vegetable oil or ghee. Temper it with a dry red chilly, mustard seeds and curry leaves. Be careful as the curry leaves and mustard seeds will start to splutter for a bit.

Now, add the veggies in the pan. Sprinkle a pinch of salt and mix well. If you want to use nuts, add those at this step.

After a minute, add some turmeric (optional). Saute the veggies until cooked well on medium flame for around 4-5 minutes.

After that, goes in the roasted suji. Mix it well with the vegetables.

Lastly add the water carefully into the pan. Stir it nicely so that no lumps are formed.

Cook the upma till the water is absorbed in the suji. This will take around 2 minutes.

Transfer the Suji Upma in a serving bowl and enjoy it hot with a cup of tea or coffee.