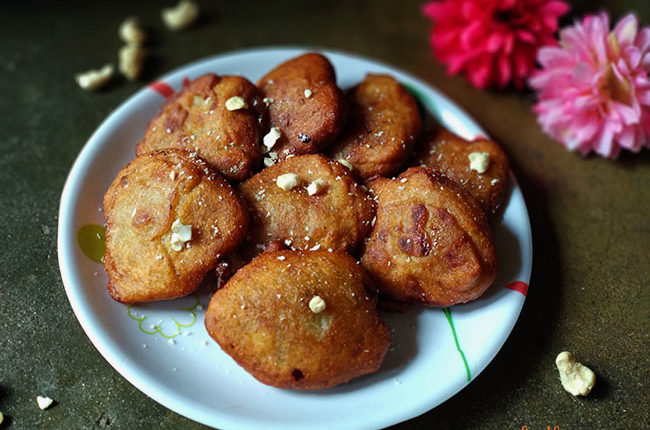 Malpua is one of the most desired sweet recipes in almost all regions of India. It is a pancake dipped in sugar syrup and served mostly as dessert or snack.
Well, there are different ways of making Malpua. Each and every house has a unique procedure that they follow to prepare these amazing sweets.
Every time we heard of the name Malpua, we get this quick imagery of festivities. Yes, that's quite true and it happens to me also. Malpua truly drives our mind to sweet memories and family gatherings.
Since childhood, I have seen my mother and aunts used to prepare these sweet pancakes during any occasion. Especially, during the holy Rath Yatra festival, we always make Malpuas at our place. This dessert is a popular item during the Raja festival in Orissa (where it is known as "Amalu"). It is also served as one of the main prasad (offering) to Lord Jagannath as a part of Chappan Bhog. 
While the Bengalis and Oriyas make this sweet mostly during Rath, it is also quite famous during Holi in the other northern states. Malpua is popularly served as a dessert or even as a snack during Holi or Diwali.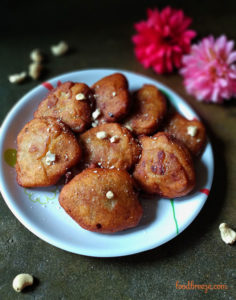 When I was a child, I remember whenever we used to visit any Mela or other similar public gatherings, Malpuas were displayed and heaped up at those stalls out there. There used to be huge lines and we had to wait for even half an hour sometimes to buy those juicy and fluffy Malpuas. Oh, those were the days! 🙂
Such an amazing and lovely bond we all have with these Malpuas. I'm sure you guys will also have similar memories associated with this dish.
What is Malpua?
Malpua is nothing but a soft and juicy pancake recipe. It is traditionally made from milk, khoya, some nuts, and sugar. The pancakes are then deep-fried in ghee.
Though there are a lot many variations to this recipe that have come up with time. The regional variations are also noticeable in the recipes.
In some regions, all-purpose flour or Maida and semolina (sooji) is used to make a thick flowy batter. But nowadays people are shifting towards a healthier version of every dish. And I always try to make my dishes a healthier one and a bit low in calories.
That way I can easily grab those pancakes without ever compromising on health.
The recipe which I have shared below is a very easy yet healthy one. Beginners can also try this recipe.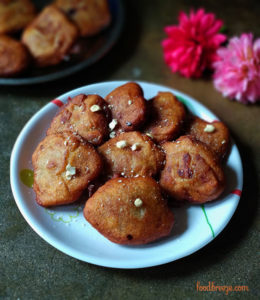 Ingredients required to make Malpua:
The ingredients that I have used in my recipe can be readily available at home. You will not need any fancy items to cook this.
Since I have tried to make a healthier version of Malpuas, I have used whole wheat flour or Atta here. However, you can replace the same with all-purpose flour.
Along with that, I have added semolina or sooji that enhances the texture of the Malpuas.
I have also used ripened bananas to make this pancake. This is another variation of making this dessert recipe. Different people belonging to different regions use different ingredients. Some use bananas, some may also use pineapples or mangoes.
A quick pro-tip: You can make use of ripened or over-ripened bananas that are sometimes left-over in our houses. This can be a good usage for those over-ripened fruits. So do try this out!
In some other variation, desiccated coconut is also used that gives a nice texture to the pancakes. Besides this, you can add other kinds of dry nuts such as almonds, raisins, peanuts, cashews, etc to this recipe. Added dry nuts will make these a bit crunchy.
If you do not like crunchiness in Malpuas, you can simply skip it.
As a sweetener, jaggery powder, or grated jaggery is used here. I have replaced adding refined sugar with jaggery. Though these Malpuas are served coated with Rabri or sugar syrup, I have not dipped the same in any additional sugary dips. If you like to add some extra sweetness, you can always add it.
Other ingredients that are required are Milk, Fennel seeds, cardamom powder, and kalonji seeds (optional).
Few tips & tricks that will help you:
You have to take care while making the batter. It should not be too thick or too thin. The batter should be of flowing consistency.
Add the milk gradually to the flour and semolina batter so that it gets mixed nicely and the consistency is proper.
I have deep-fried the Malpuas in oil. You can fry the same in ghee.
The pancakes should be fried carefully on medium flame so that it gets cooked completely both from outside and inside.
For health reasons, I have not dipped these in sugar syrup. But if you want, you can melt some jaggery in water and make a good and healthy jaggery syrup. The pancakes can then be dipped into it. Or you can layer it with some honey.
You can store these Malpuas in the refrigerator for almost a week.
You can serve these warm with a few tablespoons of Rabri drizzled over it. Or you can also serve the same with some crushed khoya or mawa.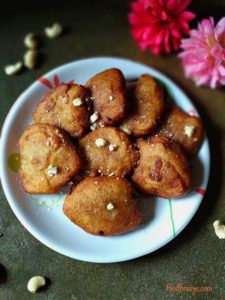 Some more dessert recipes for any occasion:
Now, let's get started with the recipe.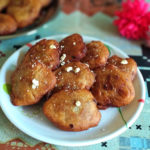 Print
Malpua Recipe
Malpua is one of the most desired sweets recipes in almost all regions of India. It is a pancake dipped in sugar syrup and served as a dessert or snack.
Ingredients
2

cups

Whole Wheat Flour or Atta

1

cup

Suji or Semolina

a pinch of Salt

1-2

tbsp

Badam or Peanuts

1-2

tbsp

Raisins

1-2

tbsp

chopped Cashew

2

small

Ripe Bananas

1

cup

Jaggery

Milk as required to make the batter

1

tsp

Fennel seeds

1

tsp

Nigella seeds (Kalonji)

optional
Instructions
How to make Malpua - Step by Step Recipe:
Take the required amount of wheat flour and salt in a large mixing bowl.

Then add suji or semolina to it.

Now, add the jaggery powder or grated jaggery into it.

After that, add the chopped nuts: raisins, cashew, peanuts, etc.

Then add the ripe bananas into it.

Mix all the dry ingredients along with the bananas nicely.

Meanwhile, boil some milk and let it come to normal room temperature.

Now, add the milk gradually and start to make a nice mixture.

Also, add some fennel seeds to the mixture or batter.

Finally, mix all the ingredients and milk and make a smooth flowing batter.

Heat some oil in a heavy-bottomed pan.

Take some batter with the help of a spatula and put it into the heated oil. Try to pour the batter in a circular shape.

Fry the pancakes nicely on both sides. It will turn into a good brownish color.

Serve the Malpua warm or hot.