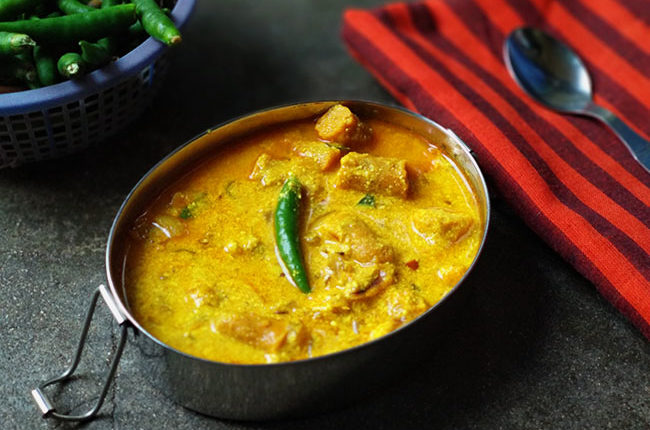 Gatte Ki Sabji is a popular dish from the Rajasthani cuisine. It is a typical curry recipe consisting of Gatta with a lot of Indian spices.
Gatte or Gatta is nothing but dumplings made out of besan or gram flour. It is a rich curry recipe that can be served along with hot Roti or steamed rice.
The western parts of India are devoid of many variations in the green vegetables. Due to the geographical and climatic effects, scarcity of water and other ingredients prevail in this region.
All of these have lead to the origin of peculiar dishes that are based out of gram flour (Besan), Maize, Ragi, Jowar, Bajra, etc. There are many varieties of gram flour dishes, be it a spicy gravy or some sweets and desserts. Another very sought-after recipe is Besan Ladoo.
The Rajasthani Kadhi recipe is also very famous and a delicious one. Though I come from a Bengali family and these kinds of dishes are not much popular in our Bengali households.
But I love this Besan ka Gatta recipe very much and prepare it whenever I crave for it. It is such a recipe that you can prepare when you do not have many veggies stocked up in your refrigerator. Or you are feeling a bit lazy to go out and bring fresh veggies. On those days, this recipe of Gatte ki Sabji will surely serve the purpose.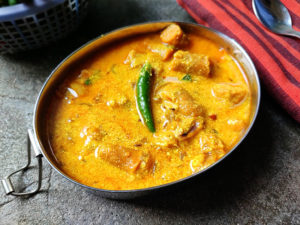 What is Gatte ki Sabji?
The dish comes from an authentic Rajasthani cookbook. Although there are some regional variations prevailing in this recipe. There is a slight difference in the Punjabi Gatte ki Sabji. But the overall process almost remains the same.
Besan or gram flour are mixed with some Indian spices such as turmeric, red chili powder, cumin seeds (Jeera), a required amount of coriander powder, and Ghee.
All these ingredients are mixed nicely with the help of water to form a smooth and soft dough. This besan dough is then given a cylindrical shape and boiled in hot water.
In this way, the Gatta is prepared which is finally dipped in a rich and spicy gravy cooked from Indian spices. The dish turns out amazingly tasty.
There are certain advantages of this recipe such as:
The recipe does not need any fancy veggies and can be prepared easily at home. It may seem that the recipe is a bit complicated and requires a lot of effort and time.
But if you focus on the outcome, it will definitely soothe both your heart and stomach. 🙂
Even the beginners can also easily try out the recipe. I do not claim this recipe to be an authentic one. Whatever I have learned and prepared, I have shared my experience here. Hope that will be helpful to you!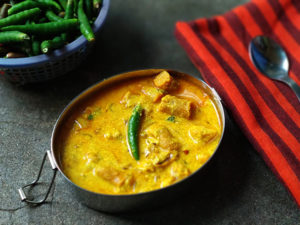 Tips and Tricks:
Before we start with the recipe, here are a few tips that I think you should follow to get a good Gatte ki sabzi.
Many people often find out that their Gatta or dumplings are hard. A simple and quick solution to this is adding Ghee or clarified butter with the Besan. Kneading the gram flour with a generous amount of ghee can help the dough to be soft. Also, make sure to knead the dough nicely for a couple of minutes.
The water used to knead the flour dough should be warm (not too hot nor cold). Warm water will ensure the processing of soft dumplings.
Before cooking the Gatta, make sure the water in the pan should be boiling. Otherwise, the dumplings or Gatta can be cracked. Hence, always place the besan Gatta in hot boiling water very carefully since it is soft and might break on mishandling.
While adding curd or yogurt in the gravy, keep the flame on low and stir it continuously till the curd gets mixed with spices completely. If you do not stir the same, it might be curdled and the gravy will not taste good.
Always adjust the spiciness in your curry as per your taste.
The gravy will become thick upon cooling. So add the water and keep the consistency of the gravy accordingly.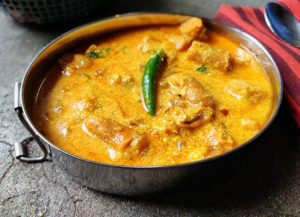 Similar curry recipes that you may like:
Let us now start with the recipe below.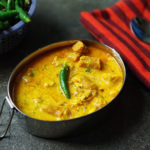 Print
Gatte ki Sabji Recipe
Gatte Ki Sabji is a popular dish from the Rajasthani cuisine. It is a typical curry recipe consisting of Gatta with a lot of Indian spices. 
Ingredients
1.5

cups

Gram Flour or Besan

2-4

tbsp

Ghee or Clarified Butter

Salt, Turmeric, and Sugar as per your taste

1

tsp

crushed Ajwain

2

tbsp

Cumin seeds or Jeera

1

tbsp

Red Chili powder or as per taste

1

cup

Curd or Yogurt

1-2

tbsp

Oil

Water as required

1

medium-sized

Onion

1

medium-sized

Tomato chopped or puree
Instructions
Making the Gatta:
Take some gram flour or besan in a large mixing bowl. Add the dry spices one by one. Turmeric, Salt, a pinch of sugar(optional), Red Chili powder, Cumin seeds, crushed Ajwain.

After mixing all the dry spices with besan, add about 1-2 tablespoon of ghee. Mix it gently.

Now, add a little amount of water at a time and start kneading the dough.

As the besan is kneaded well, take out small portions and give it a cylindrical shape.

Meanwhile, boil some water in a pan.

Place all the cylindrical besan pieces gently into the boiling water.

Cover the pan and let it cook for 10-15 minutes or till it is cooked completely. You'll get to see some sort of whitish spots over the besan pieces.

Now, let it cool down for a couple of minutes. After that, cut these into small pieces.
Cooking the gravy:
Take some curd in a mixing bowl. Add turmeric, salt, sugar, coriander powder, red chili powder in it.

Whisk the curd very nicely so that it mixes well with the spices and no lumps are present.

Now, place a heavy-bottomed pan on low-medium flame. Pour the required amount of oil and ghee (1:1) in it. You can skip the oil and replace it with ghee only.

Temper the oil with some cumin seeds and chopped green chilies. Add the chopped onions into it.

After frying the onions for a while (till it turns slightly golden), add the tomato puree.

Saute the veggies for 2 minutes. After that, add the curd mixture.

Stir the mixture in the pan continuously on low flame so that everything is mixed with each other nicely. You can add a tablespoon of water if required.

Let it cook until the oil separates out.

Now, add the besan dumplings into the pan.

Give it a mix. Finally, add the left-over water in which the besan dumplings are cooked.

Cook it for few more minutes and adjust the consistency of the gravy as per your choice. Finally, garnish it with some chopped coriander leaves and serve it.