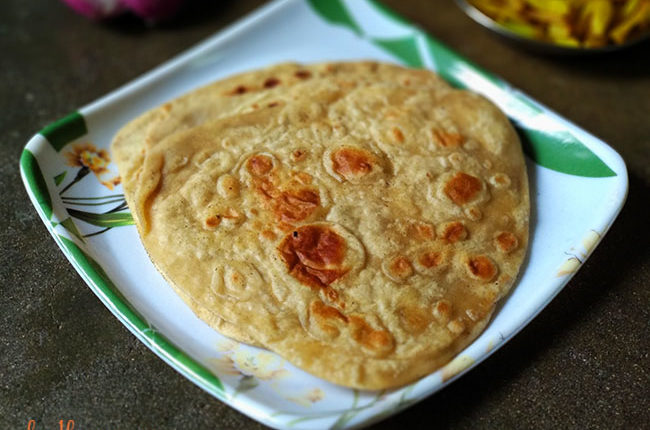 Paratha is a typical Indian flatbread prevalent in almost all regions. It is made from whole wheat flour or all-purpose flour and ghee or oil.
The word Paratha is the amalgamation of two different words: Parat (layers) and Atta (wheat flour). Hence, the literal meaning of Paratha could be layers of cooked flour dough.
It has different alternative names and textures depending on the regional varieties. Such as we Bengalis call it 'Porota'. Similarly, it is also known as 'Parotta', 'Prontha', 'Porotha', and even 'Parantha'.
The recipe is quite simple and will not take much time. It can be easily prepared for breakfast or you can pack those for tiffin boxes of your family. Even you can have the same at lunch and dinner.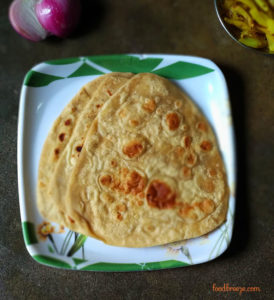 What is Paratha?
Basically, Paratha is a kind of flatbread that has different layers. So it is a layered Indian wheat flatbread cooked in ghee or oil.
It is made by cooking or baking the wheat flour dough on a pan or tava and finally finishing it off with shallow frying those bread pieces in oil.
The process of making a paratha varies in different households. Everyone has a unique way of making it.
Mostly, it is fried using oil or ghee. But the traditional recipe demands the use of butter which enhances both the flavor of the parathas and its taste.
Parathas are associated with Punjabi households and it is a traditional staple food in the northern parts of India. Especially, in winter people love eating hot parathas with a suitable side dish of their choice.
These are generally thicker and fluffier than the regular rotis since these are coated with oil in layers.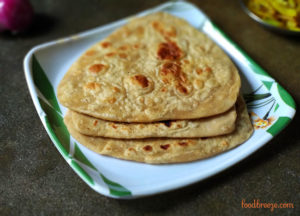 Different kinds of Paratha:
There are a lot many varieties of paratha popular in India. Some of those are stuffed while some are unstuffed.
The shape and size of the parathas also vary such as round, triangular, and even square. I have shown here how to make a triangular paratha.
Among these, the most popular is the ALOO PARATHA which is nothing but a paratha stuffed with potatoes or aloo and a few spices. It is served with some curd or pickle.
However, the other stuffings could be Gobi, Ajwain, Paneer, Sattu, Methi (stuffed with fenugreek leaves), etc.
Lachha paratha is another very common recipe that is generally made from all-purpose flour fried in oil or ghee. It has different layers or flakes that give it a typical texture.
Besides these, there is a unique recipe that consists of sugar stuffing and it is popularly known as 'MEETHA PARATHA' or sugar paratha. This is one of those variations that are not much popular. But I personally like this one very much and children will also love this.
Some of the other paratha recipes that you may like:
Sattu paratha
Paneer paratha
Ajwain paratha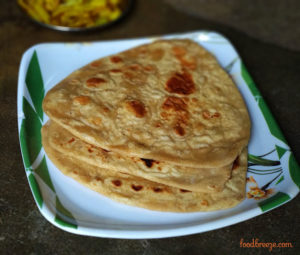 Tips & Tricks:
Before starting with the recipe, here are a few tips or tricks that might be helpful to you.
Generally, parathas are made from whole wheat flour dough. But you can opt for all-purpose flour if you like it that way.
Make sure to knead the dough into a soft and smooth texture. Add the water gradually while kneading the dough. Do not pour all the water at a time.
Please allow the dough to rest for at least 15-20 minutes so that the dough absorbs moisture and becomes soft. This will help to make the parathas soft.
 The cooked parathas can be stored in an air-tight container and you can refrigerate the same for a week. Before serving, just reheat those.
Apply a generous amount of oil or ghee on each layer while folding the bread.
If you are a beginner and find it a bit difficult to give it a particular shape, don't worry. Just make it a rounded one or even any shape will go good. 🙂
You can store the dough in the refrigerator for 2-3 days. You can reuse the same dough. But make sure to come it at room temperature before rolling it out.
Serving options:
You can serve the parathas hot with any of the following side dishes or curries. In fact, a simple BOONDI RAITA or VEG RAITA will serve the purpose.
Some people like it simply with a cup of hot tea. You can try this out too!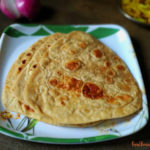 Print
Plain Paratha Recipe
Paratha is a typical Indian flatbread prevalent in almost all regions. It is made from whole wheat flour or all-purpose flour and ghee or oil.
Ingredients
3

cups

Whole Wheat Flour or Atta

Salt as required

Water as required to knead the dough

1

cup

Oil or Ghee
Instructions
How to make Paratha - step by step recipe:
First of all, take some wheat flour, a tbsp oil, and a pinch of salt in a large mixing bowl.

Next, add water gradually and knead into a smooth and soft dough.

Cover the dough with a moist cotton cloth and allow it to rest for 10-15 minutes.

After that, make small portions out of the dough. Roll it out with a rolling pin to form a small rounded dough.

Now fold the bread into half and make a semi-circular shape.

Again, fold it into the middle and give it a triangular shape.

With the help of a rolling pin, roll it out slowly and carefully into a nice triangular shaped paratha.

Take a pan and heat it on medium-high flame. Place a paratha on the pan.

Cook it for a minute and then flip it on the other side. Apply a little oil on the cooked side and press it gently with a spatula.

Now, flip it on the other side after a minute. Apply oil and fry the paratha on the other side as well.

Hot paratha is ready to serve with some aloo bhujiya or any other side dish.