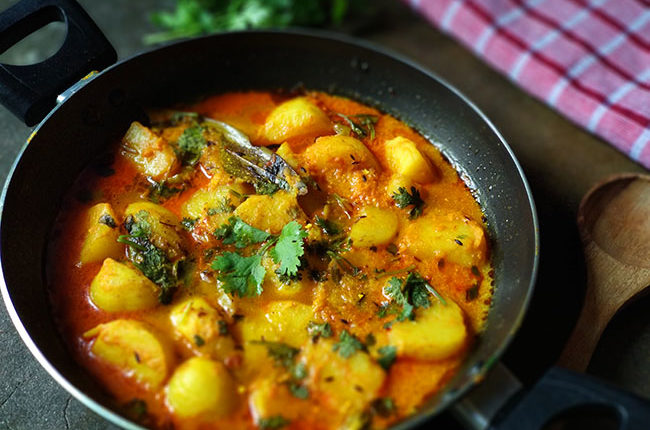 Bored with normal Aloo sabzi? Try out the Dum Aloo recipe given below and let me know the outcome.
Dum Aloo Recipe is a delicious potato-based dish authentically from the Kashmiri cuisine. It is also known as "Aloor Dum" in Bengal.
The dish is widely popular throughout India. Though the regional variations in taste and spices show up different flavors in this recipe.
Like in Bengal, we prepare Dum Aloo using regular spices. For a richer edition, cream or curd are also added sometimes. The restaurant version of the same dish comes up with a lot of spices and cream to get a nice smooth and creamy texture.
I have shared a recipe that you can prepare easily at home without compromising the taste.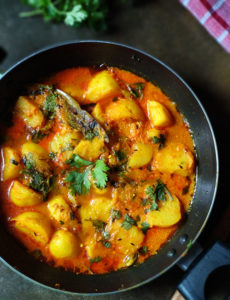 Ingredients used to prepare Dum Aloo:
Generally, Dum Aloo or Aloo Dum is cooked from baby potatoes. But if those are not available with you, regular potatoes can also be used. Make sure to cut and keep the potato size moderate to large. If you are using a large potato, cut it into four equal cubes.
I have used here regular potatoes that are available in the market throughout the year. The potatoes are cooked in a not too thick gravy. But if you want, you can adjust the gravy texture to remain thick as per your choice. Here, tomatoes, dry spice powder, ginger paste, and curd are used in this recipe.
You can also add cashew nuts either in powdered form or a paste of the same. For that, grind the cashews in a grinder to make a slightly coarse powder. Or if you want to add it as a paste, use a little water while grinding. You will get a nice and smooth cashew nut paste.
Even you can use groundnut or peanut paste also in the Dum Aloo recipe. Some may prefer to use freshly grated coconut in this recipe. The coconut or peanuts will add a good texture to the gravy.
The curd or yogurt used in this recipe will give a slightly sour taste in addition to the other spices used. Overall, it will turn out to be an amazing sweet and spicy dish.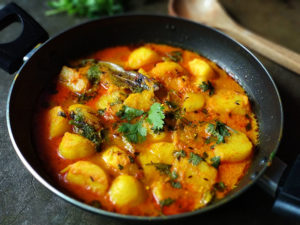 Tips & Tricks:
Though the traditional recipe uses small-sized baby potatoes. But if that is not available to you, replace the same with regular potatoes.
You can add a little amount of sugar in this recipe if you like your dishes to be a bit sweeter and spicier. However, you can skip the same if you do not like sweet taste in the potato curry.
Beat the curd well before adding so that no lumps remained.
Crush the Kasuri Methi or dried fenugreek leaves very well on your palm before adding it to the gravy.
While adding curd in the gravy, make sure to keep the flame on low. Also, whisk the curd vigorously for a while so that it does not curdle and mixes well with the gravy.
To make the gravy thicker one, increase the amount of curd in your recipe. Also, you can add cream to this. But also make sure to adjust the sourness from the added curd. You can do that by adding a generous amount of sugar or jaggery powder in your recipe.
I have used vegetable oil in this recipe. But for healthier options, Ghee or clarified butter can be used too. For enhancing the aroma, you can also add half a tablespoon (or the required amount as per your choice) of ghee before turning off the flame.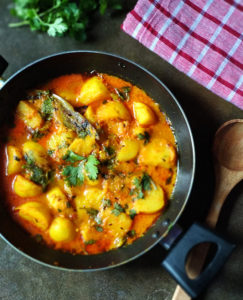 Serving Options:
You can serve this potato-based dish to your guests and even include in your weekend meals. Children will also love the dish as they are really fond of potatoes. So why not give it a try!
I have cooked this recipe so many times and believe me each time it turns out awesome. Everybody in my family loves this dish.
Dum Aloo is generally served alongside Luchi (also known as pooris) at my place. Being from a Bengali family, this combination is a must and it tastes heavenly. Another deadly combination can be Bengali Mishti Pulao and Dum Aloo.
However, the other accompaniments could be Parathas, Fried Rice, or normal steamed rice and even Rotis or Phulkas.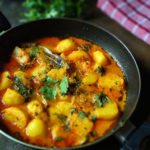 Print
Dum Aloo Recipe
Dum Aloo Recipe is a delicious potato-based dish authentically from the Kashmiri cuisine. It is also known as "Aloor Dum" in Bengal.
Ingredients
4-5

large-sized

Potatoes (Aloo)

2

medium-sized

Tomatoes

I have made a puree out of the tomatoes and used that in the gravy. While you can add chopped tomatoes.

1-2

tbsp

Ginger paste

2-3

tbsp

Curd or Yogurt

Beat the curd well before adding.

1-2

Bay leaves

1-2

Dry Red Chilies

3-4

Green Chilies

1

tsp

Cumin Seeds

1/2

tbsp

whole spices including cardamom, cloves, cinnamon

Salt, Turmeric and Sugar as per your taste

5-6

tbsp

Vegetable Oil or Mustard Oil

1

tbsp

Cumin powder

1

tbsp

Coriander powder

1

tbsp

groundnuts

1-2

tbsp

freshly chopped Coriander leaves

1

tsp

Kasuri Methi or dried fenugreek leaves

1

tsp

Garam Masala
Instructions
How to prepare Dum Aloo - Step by Step Recipe
First of all, peel and rinse off the potatoes nicely in water. Cut one large potato into four equal portions. Boil the potatoes either in the pressure cooker (until 2 whistles or boiled properly) or in a pan using the required amount of water. Add a pinch of salt while boiling.

Now, take a heavy-bottomed pan or Kadhai and heat some vegetable oil or mustard oil in it. Temper the oil with cumin seeds, bay leaves, a few cinnamons, cloves, cardamoms, and dry red chilies.

Add 1 tbsp ginger paste or grated ginger. Fry for a minute.

Now, add the Tomato puree and chopped green chilies. Fry again for a minute or two.

After that, add a handful of groundnuts, turmeric powder, salt to taste, chili powder, cumin, and coriander powder one by one.

Saute the spices well until the raw flavor is gone.

Add some chopped coriander leaves.

Now goes in the beaten curd. Also, add a little bit of sugar (optional). Keep the flame on low.

Whisk the curd and spices mixture very well with the help of a spatula so that no lumps are formed and the curd mixes nicely with all other ingredients.

Let it cook on low flame for around 3-5 minutes. You will see the oil separating from the mixture when it is done properly.

Then, add the boiled potatoes into the pan. You can fry the potatoes for a while before adding them in the gravy.

Mix all the potatoes nicely so that these are well coated with the spices.

If you want to add cream or cashew paste or grated coconut, add it at this time.

After about a minute or two, pour some water into the pan.

Cover the pan with a lid. Let it cook for another 8-10 minutes on low-medium flame.

Add a few more coriander leaves, garam masala, and Kasuri methi. Cover the pan and let it rest for 15-20 minutes before serving.

Dum Aloo is ready to serve alongside Roti, Paratha or Rice.