Coconut Ladoo is a simple coconut-based sweet, popularly known as "Narkel Naru" in the Bengali community. It is prepared in any kind of festivities or occasion.
Ladoos are a common dessert in the Indian subcontinent. There is a wide range of ladoos available in our country. Though the ingredients vary as per the regions.
Some of the popular ladoo recipes are "Besan ka Ladoo" (a kind of ladoo made from besan or gram flour), "Motichoor Ladoo", "Boondi Ladoo", "Till Ladoo" (made from sesame seeds), etc.
Coconut Ladoo is another very sought-after sweet or dessert recipe almost all over India. It has different names though. Such as 'Nariyal ke ladoo' in Hindi.
In our Bengali households, we call the same as "Narkel Naru". Narkel means coconut in Bengali and Naru means ladoo.
We usually prepare this ladoo during Lakshmi Puja and other religious occasions. This naru is one of the important sweets during Durga puja. The Bengalis serve these along with other sweets and Payesh or kheer and namkeen on the occasion of Bijaya Dashami.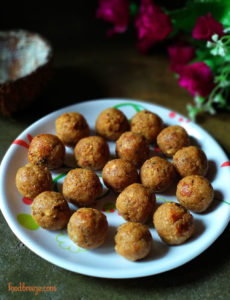 We Bengalis are always fond of different sweets and Narkel Naru or the coconut ladoo is no exception. My mom used to make this ladoo not only on any festivity but also during any time of the year.
Variations of Coconut Ladoo:
There are several ways to prepare Narkel Naru or coconut ladoos. Some use condensed milk in their recipes.
Others also use khoya or milk powder and even milkmaid.
The key difference in making this ladoo is the use of the sweetener in this recipe. You can choose either sugar or jaggery powder as per your choice or taste.
In my recipe, I have used jaggery which gives it a nice brown color. The texture is also a bit sticky and has an amazing taste that melts in the mouth.
However, some people also use sugar as a sweetener for making the coconut ladoos. The sugary coconut ladoos are white in color and has a moderate shelf life. These tend to stay good at normal room temperature for not many days. But if stored in the refrigerator, it can stay up to 10-15 days depending upon the weather of that particular region.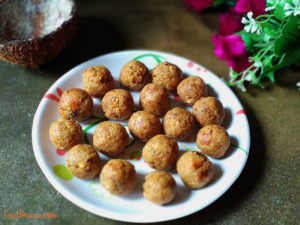 Whereas, if we talk about the jaggery-made coconut ladoos, they generally has a longer shelf life than those made from sugar. These ladoos remain without spoiling for 15-20 days at room temperature.
Especially if the weather is of a bit colder type, its shelf life increased. But you can always store the ladoos in an air-tight box and refrigerate them.
What are the ingredients required?
The recipe does not demand many ingredients and is quite simple. It can be prepared in less than thirty minutes. You will need only two ingredients: coconut & jaggery and you are good to go.
I have not used any other fat sources such as ghee or clarified butter in this recipe. Many people use to roast the desiccated or grounded coconut flakes in ghee.
Since coconut has its own natural oil which is healthy enough. You need not use any additional oil in making these ladoos. You can add raisins or other nuts to give it a twist.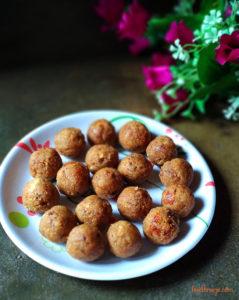 I have shared a very basic recipe here that one can easily follow.
You can use any kind of jaggery available in the market. I have used regular jaggery also known as sugarcane jaggery. It is readily available in the market throughout the year.
If you are planning to make it during winters, you can use date palm jaggery. This is typical jaggery normally seen in winter times. It has a nice aroma and rich flavor.
You can offer this nariyal ladoo as prasad to God or also serve it to your guests. Children will definitely love these. Even I prepare this during any occasion such as Raksha Bandhan, Diwali, Lakshmi puja, and many more.
Few more sweets and ladoo recipes that you may like: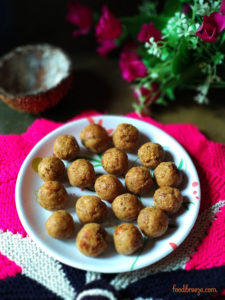 Without much delay, let us start with the recipe.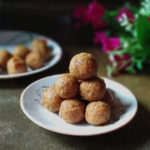 Print
Coconut Ladoo with jaggery or Bengali Narkel Naru
Coconut ladoo is a very sought-after sweet dish popular all over India. It is made from coconut and jaggery or sugar.
Ingredients
1

small-sized

Coconut

3-4

tbsp

Jaggery powder

1

tsp

Cardamom powder

optional
Instructions
How to make Coconut Ladoos - step by step recipe:
Grate the coconut very finely. Now put it in a pan on medium flame.

Roast it for a minute. Add the jaggery powder.

Mix the jaggery very nicely with the coconut. Continuously stir the mixture on medium flame.

Turn off the flame when the jaggery and coconut are well mixed together and cooked completely. You will see the mixture will bind together and it will become sticky.

Let it cool down for 3-4 minutes.

Then take a small portion of the coconut mixture on your palm (greased with oil) and make small ladoo out of it with slight pressure and giving it a round shape.

Let the ladoos rest and cool down completely at room temperature. Coconut Ladoo is ready to serve.