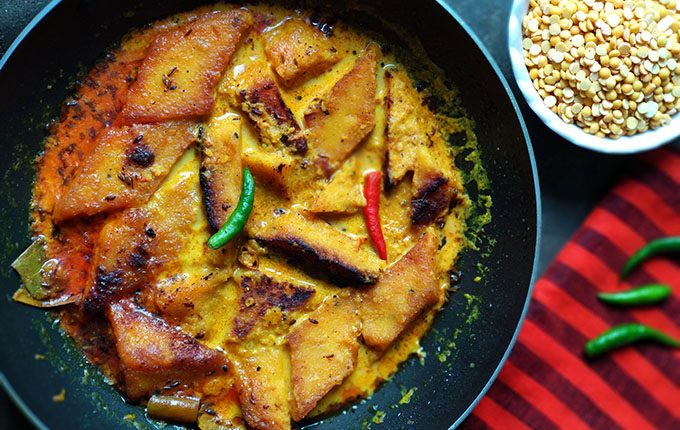 Dhokar Dalna is an authentic dish of Bengali cuisine. It is made of different types of lentils (Daal in Hindi).
This is an amazing veg recipe which is very much popular among Bengalis. A standard Bengali Veg Thali is incomplete without Dhokar Dalna.
What is Dhokar Dalna?
This comprises two parts: 'Dhoka' which is the Lentil Cake and 'Dalna' meaning a thick sweet and spicy gravy.
Dhokar Dalna is an excellent dish full of diamond-shaped lentil cakes dipped in a thick gravy.
The Dhoka or the lentil cakes are made of two types of lentils or daals- Cholar Dal (Chana dal or Split Bengal gram dal) and Matar Dal (split yellow peas).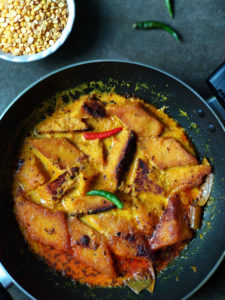 These pulses are ground to a fine and soft mixture which is then used to make the dal cakes.
Now, you can easily get a mixture of these pulses in the market. If you do not have the time to grind the dal you can buy the same from outside. But I would suggest making the mixture at home by yourself.
Mostly, I prefer to prepare the dal mixture at home to give it a complete homely taste. And it is easy too. Just follow the steps and the outcome will be surprisingly delicious.
Sometimes, we get bored with those regular dal soups and want something different. To give it a spicy twist, try out this Dhokar Dalna. I promise once you taste it, you will just fall in love with the dish.
Though the recipe is a little long process, it is nothing hard to cook. Have patience and believe in yourself. All is Well! 🙂
Nutritional benefits:
The dish consists of lentils that have amazing healthy nutrients. Along with the wonderful taste, this recipe is full of plant proteins.
Both Cholar Dal and Matar Dal are rich in protein, different vitamins such as A, B, C, D, E, K, minerals like Calcium, Magnesium,  Potassium, etc.
The aroma of the deep-fried golden brown lentil cakes is really mouth-watering. You can serve it with several main courses such as rice, paratha, or even roti.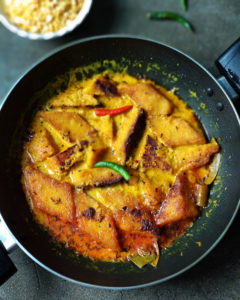 Being a Bengali, I personally love Dhokar Dalna with some steamed rice and potato fries. One can have it with Pooris or Luchi as well.
This would be a good choice to impress your vegetarian friends or guests. So, let's go through the recipe and try out. Please let me know your experiences. Love!
Few more Bengali recipes that you may like: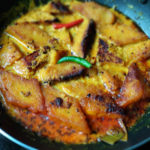 Print
Bengali special Dhokar Dalna
Dhokar Dalna is an authentic dish of Bengali cuisine. It is made of two types of lentils: Chola or Chana Dal and Matar Dal. 
Ingredients
1

cup

Cholar Dal or Chana Dal

1

cup

Matar Dal

1

large

Tomato

1

tablespoon

Ginger paste

2

cups

Milk

1

tablespoon

mixture of Cumin and Coriander powder

Salt, chili powder and Turmeric as required

1

teaspoon

Sugar

2-3

Green Chilies

2

Bay leaves

1/2

tablespoon

Cumin seeds

2

Dry Red Chilies

1

teaspoon

Kalo Jeere or kalonji (nigella seeds)

Water as needed

Mustard Oil
Instructions
How to prepare Dhokar Dalna - Step by Step Recipe
Making the Dal Cakes or Dhoka:
Take the required quantities of both the lentils (Chana and Matar). Wash them 3-4 times in water or you can soak those for a while and then rinse properly in water.

Pour the lentils in a grinder jar and add some water. Grind it to make a smooth paste.

Now, take the lentil paste in a mixing bowl. Add in some sugar and salt and a few nigella seeds (kalonji).

Add some more water. Give it a nice mix. The mixture should be thick but of a little flowing consistency.

Now, heat some mustard oil in a heavy bottomed pan or kadhai. Add the lentil mixture in the pan. Fry it for about 4-5 minutes.

After that, take out the mixture and spread it on a plate. Let it cool down completely.

Then, cut the cake or dhoka out of the cooled mixture. Make it a diamond shape or like Barfi.

Now, take the same frying pan. Add some more oil, fry the cakes.

Fry those very evenly on all the sides on medium flame so that the dal gets cooked completely. The cakes will turn out golden brown in color after frying and a bit crispy from outside. Keep the dhoka aside.
Cooking the Dalna or Gravy:
Now in the same pan, add some more oil. Temper it with a few cumin seeds, bay leaves and dry red chilies.

After that, goes in the tomato puree (or chopped tomatoes) and the ginger paste. Let it cook on medium flame for 2-3 minutes. Keep stirring occasionally.

Then add the salt, turmeric and chili powder as required.

Also add the cumin and coriander powder. Give it a nice mix.

Add the slit green chilies. Stir fry the spice mixture.

Cook the spices till its raw flavor is gone. Also you will see a slight change in color of the mixture.

Now is the time to add milk. Mix all well nicely.

After that add the lentil cakes or dhoka into the gravy mixture carefully.

Cook the gravy for some more minutes (3-4 minutes). Let the cakes soak in the gravy. Turn off the flame.

Finally, Dhokar Dalna is ready. Serve it hot with steamed rice or parathas.