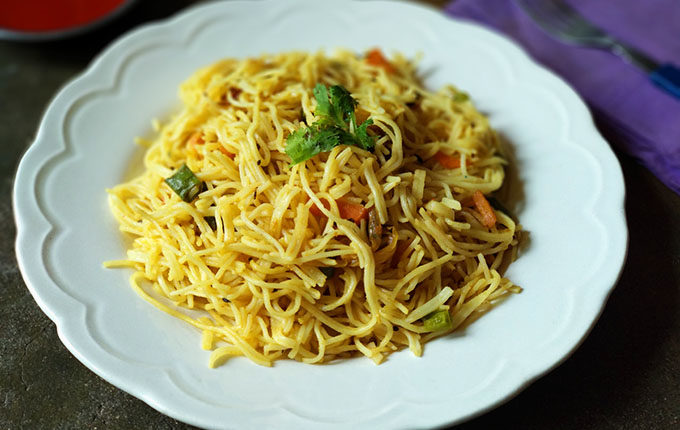 Veg Noodles or Veg Chowmein is one of the popular street foods in India. It comes under Indo-Chinese cuisine.
Nowadays, fast food has occupied our fast pace lives to a great extent. Since it is readily available and can be cooked in just 5 minutes (as they say), most of us tend to eat that unhealthy stuff. It's so flavorful and high in fat, sugar, and salt that makes it taste amazing. That is one of the main reasons why we do not get tired of it quickly.
But that doesn't mean we cannot eat noodles or other similar foods. We can make noodles easily at home.
How the Noodles traveled to India?
The origin of noodles can be linked with the East Asian countries. In India, it is said to have traveled from different countries as a trading by-product. Different travelers or writers used to visit India and noodles somehow came along with them.
In India, there are many variations of noodles prevalent in different regions in different names. Like in South Indian states such as Kerala, Tamil Nadu, Idiyappam is quite famous. It is basically a spiral-shaped rice noodle dish consumed with coconut chutney or sambar dal.
Similarly, in the west of the country (especially Gujarat), we can see examples of the noodle's journey in the form of Sutterfeni, a flaky dessert made of thin, coiled noodles deep fried in ghee and topped with melted sugar, pistachio, and almonds. It is popular in Rajasthan and Gujarat during Makar Sankranti and is also often eaten during Ramzan. Some say that it might be borrowed from traders coming to the ports of Gujarat.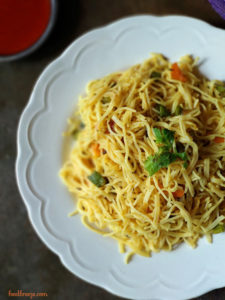 A healthier version of Veg noodles:
Preparing Veg Noodles require only a handful of ingredients. You will need noodles, some veggies, and a little amount of ketchup. That's it.
Veg noodles is simple, vegetable-based stir-fried noodles, made with whole wheat noodles and toppings of your favorite vegetables and sauces.
Though there are many variations of the noodles available in the market. Among which most common are refined flour or rice noodles. There are some healthier versions such as whole wheat noodles, Zucchini noodles, carrot noodles, and others.
I always try to use whole wheat noodles in my recipe since it is gluten-free and more effective in reducing appetite and cravings. But you can use any variation that you want. Whole-grain noodles contain a good amount of fiber, manganese, and selenium.
Whereas, refined noodles is higher in calories, carbs, B vitamins, and iron but lower in fiber and most other micro-nutrients.
Most of the road-side stalls and even restaurants use refined noodles. Also, those are loaded with tonnes of refined oils which they reuse again and again. Despite the lip-smacking taste, roadside noodles are deprived of any nutritional benefits.
And if consumed regularly or in large amounts, they can be bad for our health aiding in weight gain and other health-related problems.
So I always prefer not to eat those junks from outside. Rather why not preparing the same dish at home with healthy substitutes. In this way, we can eat our favorites without compromising our health.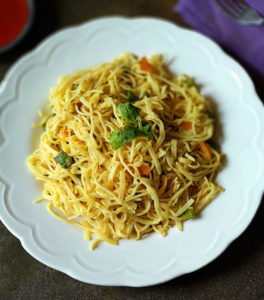 Serving options for Veg Noodles:
Veg Noodles is one of the foods that we prepare for our breakfast or evening snacks and even dinner sometimes. It varies from person to person. It is one of the dishes which children like so much.
I remember when I was a school going kid, my mother used to pack veg noodles in my tiffin.
For preparing veg noodles, you can add any veggies of your choice. It can vary as per the seasonal availability. Some of the commonly used vegetables are carrot, cabbage, capsicum, onions, french beans, etc.
Many prefer to use tomato sauce or some soy sauce in the recipe to give it a taste similar to the outside stalls. You can use any of the sauce in moderation. Like if you like spicy foods, you can add chili sauce as well.
Generally, the dish is served along with Veg Manchurian, Chili Chicken, Chili Paneer and many more. Even you can have it simply with a little ketchup.
Children will definitely love this recipe. It can be a boon to impress your sudden guests as well.
Okay, so let's see the recipe of Veg Noodles.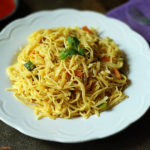 Print
Veg Noodles
Veg noodles is a simple, vegetable based stir fried noodles, made with whole wheat noodles and toppings of your favorite vegetables and sauces.
Ingredients
200

grams

whole wheat or Atta Noodles

5-6

cups

Water

1

large sized

Onion

1

medium sized

Capsicum

1

medium-large sized

Carrot

1

cup

chopped Beans

Salt and Turmeric as required

2-3

Green Chilies

1

cup

Vegetable Oil

1

teaspoon

Cumin seeds (optional)

2

tablespoon

Tomato sauce

1

tablespoon

Soy sauce
Instructions
How to make Veg Noodles - Step by Step recipe
First of all, take a large pan and add some water in it. Also add a pinch of salt and 1/2 tablespoon of oil. Let it comes to boil. Then add the noodles in the water. Boil it till the noodles are 60% cooked.

Turn off the flame. Strain the noodles and wash it thoroughly in cold water. This will prevent the noodles from sticking to each other. Keep it aside for cooling.

Meanwhile, heat some oil in a frying pan and temper it with cumin seeds. The addition of cumin seeds is totally optional.

Next, add the chopped onions in the oil. Let it fry for 2-3 minutes.

Then add the remaining veggies. Stir fry those on medium-high flame.

Next add salt and turmeric as required. Also add tomato and soy sauce as per taste.

Stir fry the veggies for another 4-5 minutes. Do not overcook it. Let the veggies remain a little crunchy.

Finally, add the noodles. Mix it with the spices very carefully and evenly.

Serve the Veg Noodles piping hot with any side dish of your choice. 🙂