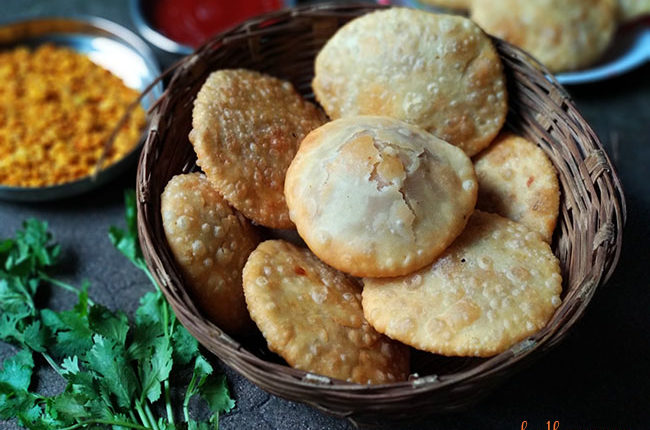 Khasta Kachori, also known as Dal Kachori is one of the most popular Indian snack recipes. It is a kind of bread stuffed with moong dal, deep-fried in oil.
The word 'Khasta' actually refers to the crispiness of the bread.
It has many names and widely popular as a north Indian street-food. Since the kachori has a stuffing that contains moong lentils along with a few Indian spices. It is also known as "Moong Dal Kachori" or simply "Dal Kachori".
In Bengal, it is mostly named Khasta Kochuri and served with sweet & tangy tomato chutney. It can be served with any kind of green chutney or Pudina chutney (Mint chutney) as well.
There are a variety of kachori recipes prevalent in Indian households. Moong Dal kachori is one of the famous ones. It is loved by people of all age groups from children to old-aged people (grandparents).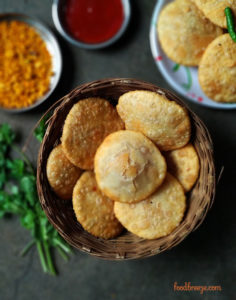 Some other varieties of kachoris that are enjoyed in different regions of India are Pyaj Kachori (Onion Kachori), Aloo Kachori, Sattu Kachori, Matar Kachori, etc.
The recipe is quite easy and can be prepared in minimum time. All you need is some patience and a little hard work.
Though the Khasta kachori can be easily available in the markets. But those are fried in an oil that is repeatedly used and many times. This is of a little concern since the processed oil is not good for our health.
So better you make fresh at home and enjoy the dish with your loved ones.
At my place, we generally prefer to grab the kachoris during the evening time with some hot tea. You can serve these kachoris anytime you wish but do serve these hot.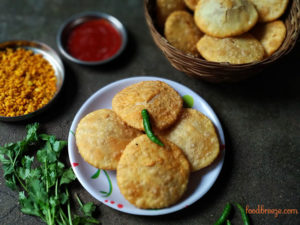 What is Khasta Kachori?
It is nothing but a variation of Indian stuffed bread deep-fried in oil.
As the name suggests, this dal kachori is generally crispy and flaky on the outside. Hence the amount of oil or ghee to be used as moyen while kneading the flour dough is an essential part of the cooking process.
Moong Dal kachori or Khasta Kachori is prepared from all-purpose flour (also known as Maida), ghee, or clarified butter (oil can be used too), a filling made of yellow moong dal (yellow split gram lentils) along with a few spices.
The commonly used spices for the filling are fennel seeds or fennel seed powder, cumin & coriander powder, red chili powder, amchur powder (or chat masala whatever available with you), turmeric, salt, and a little sugar.
You need to prepare the filling first and then put that inside the dough ball. These balls are deep-fried in oil later on.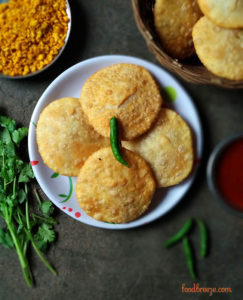 Methods to prepare the moong dal stuffing:
Now, for the preparation of stuffing there can be different procedures. You can follow either of the processes.
Method 1:-
Some prefer to blend or grind the lentils before cooking those with spices. If you follow this method, make sure to soak the lentils for at least two hours.
The more you soak the dal the better will be the dal texture while grinding the same.
Method 2:-
Here, I have boiled the lentils beforehand in a pressure cooker and then mashed them. After that, I have used the cooked dal for preparing the stuffing.
This process reduces the cooking time a little bit. Since the dal is already cooked it need not be fried for a longer time with the spices. You can just roast it for a while.
Some quick tips & tricks:
Please try to follow and keep in mind a few tips that are mentioned below.
To make the kachori a crispier one, you need to add an appropriate amount of oil or ghee in the dough. Here I have used 4-5 tbsp oil for 3-4 cups of flour. You can increase the amount of oil if you want but do not reduce it.
The kachoris should be fried on low-medium flame slowly. It will take some time but this process will ensure the kachoris cooked well from both inside and outside.
You can store the extra moong dal stuffing if any for almost 10 days in the refrigerator. Store it in an air-tight container.
You can also store the kachoris for 2-3 days but I would suggest to eat it fresh and hot.
For a healthier version, you can reduce the all-purpose flour and replace the same with wheat flour or Atta.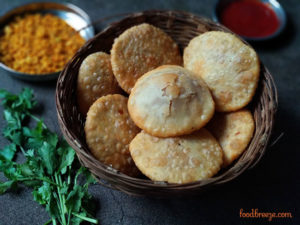 Few more fried bread recipes that you may like:
Poori (or Luchi)
Pyaz Kachori
Matar Kachori
Let us now start with the recipe.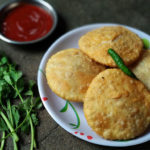 Print
Khasta Kachori Recipe, Moong Dal Kachori
Khasta Kachori, also known as Dal Kachori is one of the most popular Indian snack recipes. It is a kind of bread stuffed with moong dal, deep-fried in oil.
Ingredients
4-5

cups

Maida or all-purpose flour

approx 250-300 grams

5

tbsp

Oil or Ghee

1-1.5

cup

Moong Dal

Salt, Sugar, and Turmeric as required

1/2

tbsp

dry roasted Cumin & Coriander powder

1/2

tsp

Garam Masala powder

1

tsp

Amchur powder

1

tsp

Fennel seeds

1/2

tsp

Heeng or Asafoetida

1

tsp

dry red chilly powder

Water as required to knead the dough

Oil for deep frying
Instructions
Making the dough:
Take the flour or maida in a large mixing bowl. Sprinkle a little salt and add the required amount of oil. Mix it well.

Now add water gradually and make a soft smooth dough. Grease it with some oil and let it rest for 20-30 minutes.
Making the moong dal stuffing:
While the dough is resting, let us make the stuffing.

You need to soak the moong dal in water for at least an hour.

After that, rinse off the dal well and boil it in the pressure cooker until 3-4 whistles or the dal is cooked well.

Once the dal is cooked, mash it with a hand blender or with the help of a spatula.

Now take a frying pan. Add 1 tbsp oil and the mashed moong dal.

Add the spices one by one: turmeric, sugar, salt, cumin & coriander powder, garam masala powder, amchur powder, dry red chili powder.

Sprinkle a little amount of water if you want.

Saute the spices and dal for 4-6 minutes.

After that, turn off the flame and keep it aside.
Frying the Kachoris:
Now take out the dough. Make small round balls out of it.

Then make a small hole at the center of the ball by pressing slightly with the tip of fingers.

Put a small portion of the stuffing inside that hole.

Cover the mouth of the ball by closing the edges together nicely so that the stuffing doesn't get outside.

Now, take the ball on a flat surface; roll it out a little with the help of a rolling pin. Make sure you roll it with light hands.

Prepare the remaining kachoris in a similar manner.

Meanwhile, heat some oil in a heavy pan or kadhai. Add one-two kachori at a time into the oil.

Flip the other side; spread some oil on to the kachori.

Make sure the kachoris are fried well on both sides. The color will change to a nice light brown.

Serve the Khasta Kachori hot with some ketchup or spicy chutney of your choice.