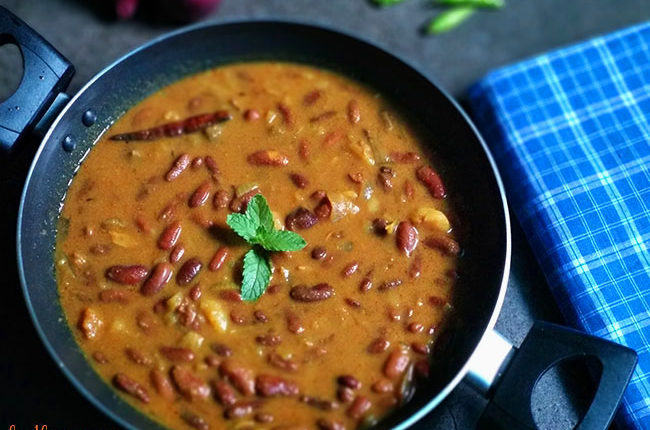 Rajma ki Sabji or Rajma Curry is a very popular vegetarian dish in North India. It is a staple curry recipe cooked from rajma in a thick gravy along with the Indian spices.
This curry is mostly served with long-grained Basmati rice or Jeera rice. The deadly combination of Rajma Curry and steamed rice is one of the most sought-after dishes in northern Indian households. Also known as, "Rajma Chawal".
Rajma Curry or Rajma Masala (whatever you call it) is always in the favorite items list for almost all of my friends or colleagues who belong from Punjab or adjoining areas.
Being raised in a Bengali family, I never felt rajma to be a north Indian recipe. My mother used to cook rajma very often and I have always loved this curry. In fact, the recipe which I have shared here actually belongs to my mother.
How to make Rajma Curry?
Though the rajma recipe seems a bit tough or complicated to some. But if you ask me it is not true.
This is an easy yet tasty recipe that does not demand any fancy ingredients. All the requirements can be fulfilled in no time since those are readily available in the Indian markets.
Rajma or Kidney beans, as we call them in English is the primary element to make this recipe. It is cooked in a thick to medium gravy with a few Indian spices.
You can always adjust the consistency of the gravy as per your taste. I personally like the gravy on a bit thicker side.
Depending on that, you can reduce the water while cooking. Even, you can add fresh cream or yogurt to give it a nice creamy texture.
The rajma gravy consists of spices such as whole garam masala (includes cardamom, cinnamon, clove, etc), coriander powder, cumin powder, dried mango powder (also known as 'Amchur powder'), chat masala and dried fenugreek leaves (Kasuri Methi). These spices are cooked with veggies like onions, tomatoes, ginger, and garlic.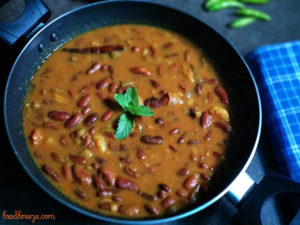 You can use either chopped onions and tomatoes or make a paste out of it.
Generally, the dish is a bit spicy which enhances the taste of the curry. But you can always increase or decrease the number of spices such as green chilies or red chili powder as per your taste.
All of these spices when combined together with rajma not only taste good but also it is an extremely healthy dish.
Rajma ki Sabji – a Nutritional Boon:
Rajma recipe is an easy recipe that is nutritious at the same time. There are a lot of nutritional values associated with this dish.
Since the shape of rajma is very much similar to the kidneys present in our body, it is also called as kidney beans. In fact, these beans are rich in fiber and iron and considered good for our kidneys.
The kidney beans or rajma is an excellent source of plant-based protein. They are also rich in various minerals, vitamins, antioxidants, fibers, and other unique plant compounds.
Consisting of high magnesium, it helps in lowering cholesterol. Rajma is also good for diabetic people. In addition, rajma is a good source of potassium which dilates blood vessels and lowers blood pressure.
It is also good for our skin and believed to cure acne.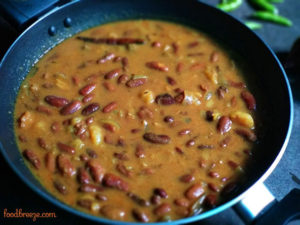 Besides, this is low in calories and hence aids in weight loss. For this reason, one should include rajma in their regular diet along with other beans and legumes.
Thus, rajma can be considered as a nutritious dish for sure. Now let us see some quick tips that might be helpful to you while preparing the recipe.
A few tips and tricks to make Rajma Curry:
Soaking the Rajma – One of the most important points that should not be overlooked is soaking the rajma beans in water for an ample period of time. It has a hard texture and needs enough soaking so that the beans are boiled or cooked properly. The more time you soak it, the less will be the time required in boiling the same. I would suggest for overnight soaking which will be hassle-free. But if you do not have that much time, you can use hot water and soak the beans for at least 2 hours.
Cooking the Rajma Beans – Once soaked well, you need to boil the rajma beans prior to making the gravy. The beans are harder and hence requires a little more time to cook compared to the other lentils or legumes. If using a pressure cooker for boiling, cook it until 5-7 whistles. The rajma should not be overcooked but can be bitten without much resistance. Also, it should be infused within the gravy properly. So take proper care and boil the same accordingly.
 Ghee or Oil – The traditional recipe includes ghee or clarified butter. The nice aroma of ghee adds an exclusive richness to the curry. And ghee is a healthy option too as it contains healthy fat. But you can opt for butter or other kinds of oil too.
 Varieties of Rajma – There are different kinds of rajma or kidney beans available in the market. Some are white beans, some are red or brown or even dark red or black color. You can use any variety of kidney beans in this recipe. However, Rajma ki Sabji is generally cooked from the red-colored ones.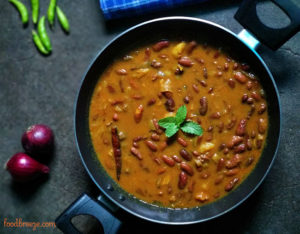 Serving Options –
Mostly, people love Rajma Curry hot with steamed rice or Jeera rice. However, the other accompaniments could be simple Phulkas or Roti, Paratha, Naan, or POORI.
Some other curry recipes that you may like:
Without much delay, let us start with the recipe.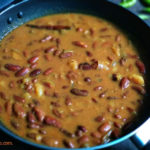 Print
Rajma ki Sabji
Rajma ki Sabji or Rajma Curry is a very popular vegetarian dish in North India. It is a staple curry recipe cooked from rajma in a thick gravy along with the Indian spices.
Ingredients
1

cup

Rajma or Kidney beans

1

large-sized

Onion chopped

1-2

medium-sized

Tomato

1

tbsp

Ginger & Garlic paste

2

Bay Leaves

1-2

Dry Red Chilly

1/2

tbsp

Cumin seeds or Jeera

1

tbsp

a mixture of Cumin and Coriander powder

1/2

tbsp

Garam Masala powder

Salt and Turmeric as required

2-3

Green Chilies

1/2

tbsp

Red Chili powder or as per taste

3-4

tbsp

Oil
Instructions
Rajma Curry - step by step recipe:
Soak the rajma beans overnight or for 6-7 hours in water. Boil the rajma in a pressure cooker until 6-7 whistles or cooked properly.

Heat some oil in a heavy-bottomed pan. Temper it with a few cumin seeds, bay leaves and dry red chilly.

Add the chopped onions into the pan. Fry the onions till it turns slightly golden brown.

After that, add the tomato puree along with ginger and garlic paste. If you are opting for pure vegetarian, skip adding garlic. Fry it for a minute or two on low-medium flame.

Now add the spices one by one: Turmeric, Salt as per taste, Red Chili powder, Amchur powder, Cumin, and Coriander powder.

Mix all the spices together nicely. Saute the same on medium flame until the raw flavour is gone. You will get to see oil oozing out of the spice mixture when it is cooked thoroughly.

After all the spices are roasted well, add the boiled rajma into the pan. Give this a nice mix so that the rajma beans are coated with the spice mixture.

Now goes in the required amount of water.

Cover the pan and allow it to cook on a low-medium flame for about 8-10 minutes.

Finally, add a little garam masala powder and crushed Kasuri methi. Let it cook for a while.

Turn off the flame. Cover the pan. Let it rest for 15 minutes before serving.

Garnish with some coriander leaves or a sprig of mint leaves. Serve it alongside steamed rice or roti or paratha.