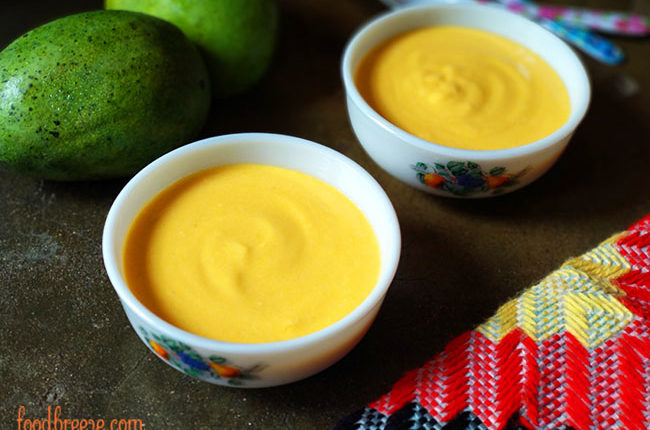 Aam Doi is an astounding sweet-dish under Bengali cuisine. It is a mango-based pudding recipe widely enjoyed during summers.
'Aam' is the Bengali name for Mangoes and 'Doi' meaning Dahi or yogurt (curd). Hence, this dish is basically a dessert made out of sweet ripe mangoes and plain curd. Additional sweeteners may also be added in some cases along with some dry fruits.
Summer season is here which means we can have mangoes in abundance. So I thought to share this simple yet yum recipe with you guys. We will need two primary ingredients: Mango and Curd.
If you have these two available in your place, you are ready to go with this recipe.
Aam Doi is a typical Bengali dessert recipe that is served usually after meals. Or you can have it at any time of the day whenever you feel like having some mangoes.
This refreshing mango-flavored curd can be prepared in no time. It is a very easy recipe and can be a good dessert option for your guests or children.
It is also known as 'Aam Dahi' or Mango Curd or Mango Yogurt. Several sweet dishes are prepared from mangoes and this is one of those interesting items to relish upon.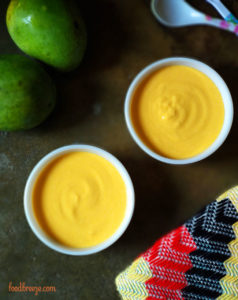 The ingredients to prepare Aam Doi:
There are several ways to prepare the dish. You can use fresh homemade curd or store-bought curd. Artificial sweeteners such as sugar or jaggery (for a healthier option) can be used to enhance the sweetness of this dish.
In my recipe, I have used store-bought curd or yogurt. And that works completely fine for me. However, if you want to use homemade curd, you can always use the same.
Since mangoes or Aam are rich in sugar content, I have not used any other sweeteners in my recipe. I personally prefer to enjoy the sweetness of the mangoes only. This is the general process that we follow in our home. We do not tend to use sugar in this.
Cutting the additional sugar actually helps to keep it basic and healthy.
But, you can always add sugar or jaggery powder to give it a little more sweet taste. To give it some crunchiness, you can use chopped dry fruits such as cashews, almonds, pistachios, and raisins in this dish. Also, fresh fruits such as pomegranate will go well with this mango pudding.
I have kept the recipe here simple yet flavorful. The nice aroma of the ripened mangoes doubles the flavor and taste of the dish.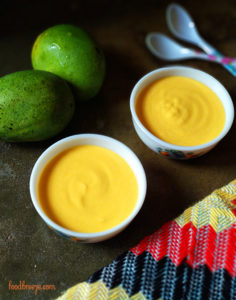 Nutritional Value of Aam Doi:
We all know how beneficial curd or yogurt is to our body, especially during hot sunny summer days. Curd or yogurt is a dairy product full of nutritional benefits.
An advantage of curd is that it is light on the stomach and keeps our digestive system well. Besides, it is loaded with many other micronutrients and vitamins such as Calcium, Potassium, Magnesium, Vit B-12, etc.
Low in calories it is a great source of protein for gym-goers and diet-followers.
Coming to mangoes, it is rightfully known as the King of Fruits.
Mango fruit is full of Vitamin A and C and is one of the richest sources of minerals such as potassium, magnesium, copper, calcium, and phosphorus. Packed with prebiotic dietary fiber and a lot of antioxidant compounds, it helps in digestion when eaten in a moderate amount.
Overall, mangoes mixed with curd (Dahi) makes an amazing coolant that one must try out in summer. It is a perfect dessert item for summer and even can be eaten as evening snack.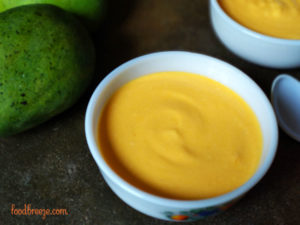 Few more mango recipes that you may like:
Aam Panna (raw mango based coolant)
Mango Shake
Aam Ras (a dessert prepared from mango flesh and juice)
Please have a look at the recipe given below and let me know how this turned out!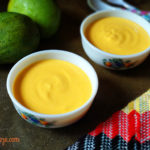 Print
Aam Doi Recipe, Mango Curd Recipe
Aam Doi is an astounding sweet-dish under Bengali cuisine. It is a mango-based pudding recipe widely enjoyed during summers.
Ingredients
1

large

Mango (ripened enough)

200

grams

Dahi or Curd

Water

optional

Sugar / Jaggery

optional
Instructions
How to prepare Aam Doi - Step by Step Recipe:
Peel off the mango and cut into small pieces. Take a blender and pour the mango cubes in it.

Blend the mango well and make a smooth creamy paste out of it.

Now take a mixing bowl and take the curd in it.

Beat the curd very well. Add a little water if it appears too thick. After that, add the mango puree in the curd.

Mix it nicely with a spatula. Refrigerate the mixture for at least an hour or two before serving.

Serve Aam Doi chilled. Sprinkle some pomegranate seeds if you want.