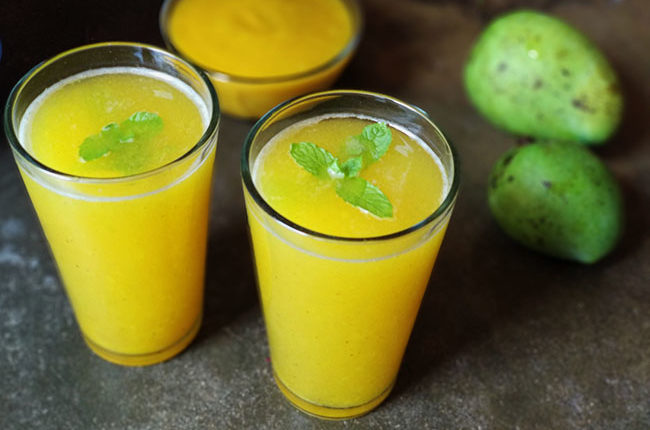 Aam Panna is an interesting sweet & spicy raw mango drink enjoyed in summer. It is renowned for its heat-resistant properties.
The refreshing summer drink is made from raw mangoes along with an assortment of other spices. Such as turmeric, cumin powder, coriander powder, sugar, and red chili powder.
The color of Aam Panna varies from yellow to light green. It is consumed mainly in northern parts of India to beat the intense summer heat. It also helps to prevent the excessive loss of sodium chloride and iron during summer days.
So do try this recipe and treat yourself with a treasurable glass of this raw mango drink.
An Interesting story behind Aam Panna –
I have been drinking Aam Panna since my childhood days. When I was in school, we used to visit our maternal grandmom's place every summer vacation. I along with my cousins used to play and jump around the garden and fields the whole day. Despite the high temperatures outside, we enjoyed our hide and seek amidst the garden of mango and jackfruit trees. Along with all these, I remember my grandmom used to serve us all a refreshing glass of sweet and spicy Aam Panna. Lovely memories indeed!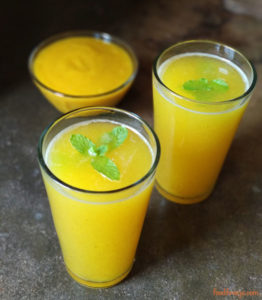 So, raw mangoes and Aam Panna always remind me of the hot and sunny summer days. Though I was not sure why my mother or my grandmother served us the raw mango drink. I guessed that raw mangoes are available during summer and that is the only reason why we drink it.
But as I have grown up, I have understood the logic behind this.
Especially for outgoers and children, there is a tendency that the energy level goes down very easily due to the intense heat and sunrays. Even the homemakers also face similar problems as they have to take care of the household. Hence, it is very much important to keep ourselves hydrated all the time so that we do not feel tired and can continue doing our jobs well.
Aam Panna made from raw mango comes as a savior during those days.
Is Aam Panna good for health?
Aam Panna is definitely a healthy drink and acts as a summer cooler. It has the ability to restore the nutrients required in our bodies to functions properly.
Raw mango is also known as Kairi in some regions. Kairi possesses amazing health benefits. No doubt why mangoes are called as the King of Fruits!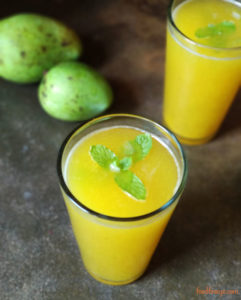 The green mangoes which we call Kachha Aam are the powerhouse of nutrition and a great source of Vitamin C. It helps in boosting our metabolism, thus aiding in weight loss.
Unlike the ripe mangoes, Kairi or the raw mangoes are less in sugar content and calories. It helps to maintain the electrolyte balance in our body so that we do not feel tired or a little low in those hot and sunny days.
Raw mango helps in treating a variety of stomach related problems such as indigestion, bloating, constipation, etc. It is highly rich in Vit C, Vit A, Magnesium, and Calcium that are believed to be helpful in releasing toxins from the body. Thus helping in healthy bowel movements.
Due to the traces of Vit A in it, raw mango is good for our hair and skin also. Not only this, but it's also a great source of plant-based fiber.
Ingredients required to prepare Aam Panna:
To make Aam Panna, you will just need some raw mangoes or Kairi (Kacha Aam in Bengali) and some handful of spices that are easily available at one's kitchen.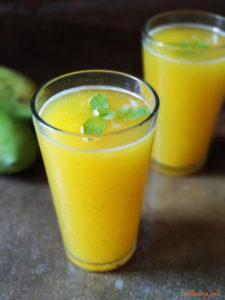 You can add some mint leaves in this drink to increase its flavor and nutrients. In my recipe, I have used turmeric which is a flavorsome spice full of healthy benefits. Turmeric is well known for its anti-inflammatory properties and also it aids in the digestion process.
Also, the turmeric will give a nice yellowish color to this refreshing summer drink. But if you wish, you can avoid using turmeric in this drink.
The recipe for this instant cooling summer drink is very easy and can be prepared with a minimal number of ingredients in no time. Serve this drink to your sudden guests and let them relax a bit.
Some quick tips:
Before using the raw mangoes in your drink, make sure you peel them and rinse off in water very nicely.
Use a generous amount of sugar or any other sweetener so that the sourness of the raw mangoes are well-balanced.
If you do not want to add sugar, you can replace the same with jaggery or Gur which is again believed to have some add-on nutritional benefits.
Serve this cooling drink with some ice cubes. Or you can use chilled water or even mud pot water (matki ka paani) that is a natural cooler.
Make sure to extract only the mango pulp or flesh after boiling the raw mangoes. After that only, blend the mangoes. Otherwise, it will become slightly bitter in taste.
You can store the concentrated mango pulp mixture in an air-tight container for about 1-2 weeks.
Let's see the recipe of Aam Panna.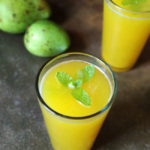 Print
Aam Panna Recipe, Raw Mango drink
Aam Panna is an interesting sweet & spicy raw mango drink enjoyed in summer. It is renowned for its heat-resistant properties.
Ingredients
2

cups

Raw Mangoes (peeled off and sliced)

This is equivalent to around 200 grams of mangoes.

4-5

cups

Water or as required

Salt and Turmeric as required

4-5

tbsp

Sugar

You can adjust the sugar quantity as per your taste.

1

tbsp

a mixture of Cumin and Coriander powder

1/2

tsp

Red Chili powder

2-3

tbsp

Mint Leaves

Though it is optional, you can even increase or decrease the mint leaves in this drink as per your choice.
Instructions
How to prepare Aam Panna - Step by Step recipe
First, peel off the raw mangoes very nicely. Rinse those off in water and cut into square pieces.

Place the mangoes in a cooker. Add a pinch of salt, 1/2 teaspoon Turmeric (or even less), 1 teaspoon cumin, and coriander powder each. Also, add a pinch of red chili powder (optional).

Pressure cook all the ingredients until 3-4 whistles. After the pressure is released, pour the mixture in a large bowl and allow it to cool down for around 10-15 minutes.

Now, after cooling down, remove the white membranes or any hard skin if present in the mango. Make sure to extract the pulp or the mango flesh only. Place the boiled raw mango mixture in a blender jar.

Add a generous amount of sugar or jaggery powder and some mint leaves. You can also add 0.5-1 tablespoon chat masala into it.

Blend the mixture very well to form a smooth concentrated paste. Avoid using additional water before blending.

Now, take a tall glass. Pour in some of the mango pulp paste (around 2 tablespoons) in it.

Add some ice cubes and water (preferably cold water) into the glasses.

Stir the mixture so that it mixes well in water. Enjoy your chilled glass of Aam Panna.