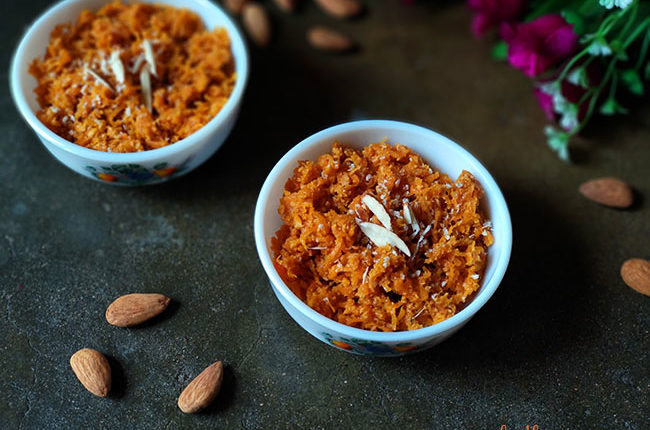 Gajar ka Halwa is a relishing carrot-based pudding widely popular in the northern Indian subcontinent. It is generally enjoyed during the winter season as carrots flood the market at that time.
It is also known as Gajar Halwa, Carrot pudding, Carrot Halwa, Gajorer Halwa (in Bengali), or Gajrela.
This carrot pudding is said to have originated from the North Indian kitchens. It is a popular sweet dish of winter.
Coming from a Bengali family, I am very much prone to any sweet dish since childhood. Bengal is famous for its different kinds of sweets such as Rosogolla (also pronounced as Rasgulla), Sondesh, Peda, Kheer Kadam, Payesh (rice pudding cooked in milk), Bengali Mishti Doi (sweet curd), and many more.
Gajar ka Halwa is something that is not so popular in Bengali cookbooks. But nowadays, it is being adopted and getting popular in many households.
I personally love this halwa recipe. I have learned this from my mom who is very much fond of making various sweets and pudding.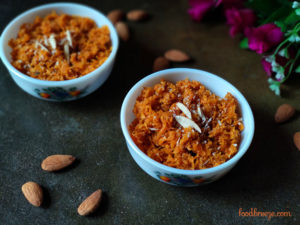 What is Gajar ka Halwa?
Gajar means carrot and Halwa is the other name for 'sweet'. Hence, as the name suggests Gajar ka Halwa is a sweet dish or pudding cooked from carrots.
The main ingredients required for making this carrot pudding are carrots, milk, ghee, sugar (or any other sweetener), and dry fruits and nuts.
The carrots need to be grated before using in this recipe. You can grate it in any type you want such as medium or thin grated. I have thinly grated these here in my recipe because everyone in my home likes this way.
Though there are a lot of ways and methods to prepare Gajar halwa. Some follow the method of simmering the grated carrots directly into the milk first and then add ghee or clarified butter later on.
What I have done here is, I have roasted the grated carrots in ghee for a few minutes. Then I have poured milk into the carrots and cooked them.
I generally follow this method to make Carrot Halwa as I found it better.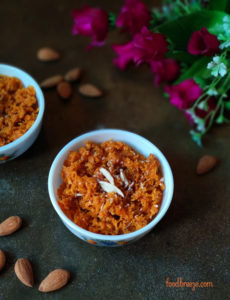 Some quick tips & tricks:
I do not claim to be a master of this recipe. But I will be sharing with you some tricks that I have learned and realized while cooking this carrot halwa.
Use of fresh carrots:- Over time, I have seen that the carrots used in the halwa must be fresh and tender. Avoid using large fibrous carrots since these are devoid of moisture and sweetness.
Which kind of carrots should be used: Orange or Red:- Well, any variation of carrots can be used in this halwa. The traditional recipe includes the use of Delhi carrots or the red carrots that are mostly available in the winter markets. These red carrots tend to have more sweetness and tenderness than the orange ones. However, if those red carrots are not available or you are trying to make the halwa other than winter times, you can always use the orange carrots.
Full-fat milk:- It is recommended to use full-fat milk in making Gajar Halwa. But if you are looking for a healthier version, you can use skimmed milk too. Or you can even reduce the quantity of milk in your recipe.
Use of nuts:- Different kinds of nuts can be used in carrot halwa such as almonds, pistachios, cashews, raisins, etc. These are some of the commonly used nuts that give a nice crunch to this halwa. You can also use fresh pineapples, raw papaya along with carrots to make a variation. However, I personally prefer Gajar ka Halwa simply as it is without any added crunchiness. So I have not used any nuts or dry fruits here.

Which sweetener can we use – Sugar or Jaggery:
Generally, sugar is used as a sweetener in any halwa recipe. And so is the case of Gajar Halwa. Fine sugar crystals or powdered sugar is used in this recipe.
But if you want you can omit the sugar and make this pudding a sugarfree one. You can even use jaggery powder. Obviously the taste will vary a little bit when using jaggery instead of refined sugar. But that is completely okay.
I have also used a typical kind of jaggery called 'Nolen Gur' (a kind of date palm jaggery used in many Bengali sweet dishes including Kheer).
The authentic recipe does not demand khoya or mawa (dried or evaporated milk). It is simply cooked using milk only. Many people use condensed milk or khoya in their recipes to give it a nice texture. In some cases, fresh cream is also used.
In that case, please make a note of the amount of sweetener used. You can increase or decrease or even exclude it as per your taste.
Serving Options and Storing of Gajar ka Halwa:
This carrot pudding recipe has a moderate shelf life. Hence you can store the same in the refrigerator for almost a week. You just need to warm this a little before serving.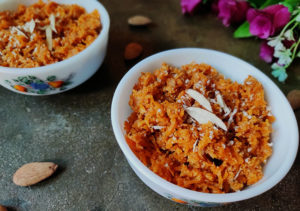 Since the dish has a popularity to serve during chilly winter days, it is consumed hot or warm depending upon one's individual preference. I can have it in any form and at any time of the year.
You can also try this chilled with some vanilla icecream. This combination is liked by many people. Though I have not tried it yet, I will surely.
This dish is served mostly as a dessert after a heavy meal. Since it is lighter on the stomach than the other conventional desserts. Also, carrots are good for our health.
The recipe does not require many ingredients. It can be prepared easily under half an hour. Without much delay, let's start the recipe.
Few more sweets recipes: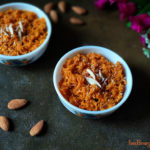 Print
Gajar ka Halwa
Gajar ka Halwa is a relishing carrot-based pudding made out of carrots, milk, ghee, and nuts. It is generally enjoyed during the winter season.
Ingredients
2-3

large

Carrots (freshly grated)

3

cups

Milk

around 300-350 ml

3

tbsp

Jaggery powder

If using sugar, add it in the same amount as jaggery or as per taste.

1/2

tbsp

Cardamom powder or crushed Elaichi

3-4

tbsp

Ghee or Clarified Butter

1-2

tbsp

crushed nuts

I have used almonds here. You can add any other nuts of your choice.
Instructions
How to prepare Gajar ka Halwa - Step by Step Recipe:
First of all, wash and peel off the carrots very well. Grate it using a grater or any other special equipment if you have any.

Now take a pan and add around 1 tbsp ghee in it.

Add the grated carrots into the pan.

Cover the pan with a lid. Let the carrots cook for a while in its own moisture. Do not add any water.

Roast it in ghee for around 7-9 minutes on medium flame. Make sure to stir in between.

After that, pour the milk gradually into the pan.

Mix all well. Add the crushed Ealishi or cardamom.

Let it simmer on low-medium flame for another 10-15 minutes depending on the amount of milk and carrots. Stir the mixture occasionally. Also, add some khoya or mawa at this stage (optional).

When the carrots are cooked well and the raw flavor is gone and the milk is dried out a bit, turn off the flame. Pour 1-2 tbsp ghee and the jaggery powder. You can adjust the consistency as you wish.

Give it a nice mix. Cover the pan and let it rest for some 10-15 minutes.

Garnish it with a few crushed almonds and serve it warm.