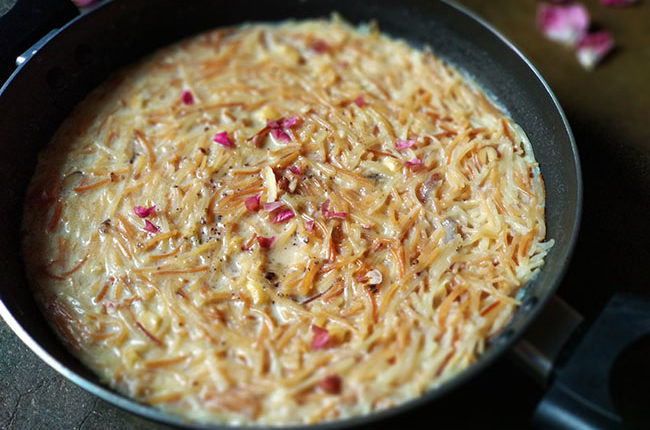 Sheer Khurma or Sheer Khorma is an integral part of the dessert items, especially on festivities such as Eid. Traditionally, this dessert recipe is made of milk, vermicelli (also called Seviyan), and dates.
Sheer means 'Milk' in Persian and Khurma means 'Dates'. 
It is said that long back this sweet dish was prepared from whole milk and dates only. Later on, vermicelli or Seviyan got added to this.
This delicious milk and dates pudding truly represents the essence of Eid. During my college days, I remember my roomie who belongs to a Muslim family. She used to bring Sheer Khurma, Methi Seviyan, or simply Seviyan pudding and many other kinds of dessert items for all of us in the hostel after returning back from home celebrating the Ramazan. And we were so delighted having this amazing vermicelli pudding. Those were the days!
I have learned the Sheer Khurma recipe from my roommate only. The dish is prepared with lots of dry fruits, milk, and added sweeteners.
The most commonly used dry fruits are Dates, Almonds, Cashews, Raisins, Pistachios, Chironji, etc. However, you can add or omit any of these as per your choice or availability.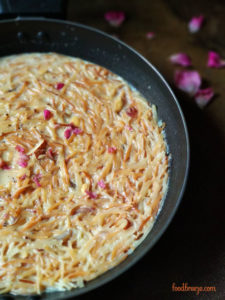 How did we get Sheer Khurma?
There are many stories which state Persia as the origin of this sweet pudding.
Dry fruits and nuts especially Dates are abundantly present in the middle east areas such as Persia, Arabia, Afghanistan, etc. As the name suggests, maybe there was a time when people of these areas used to cook a simple yet delicious pudding using only milk and dates. Gradually, the dish got enhanced with the addition of vermicelli and other dry fruits in it.
We have read in history that India or Aryavarta had good trade relations with Persian or Arabian countries. The Silk Road played an important role in conveying goods and cultures from that part of the world to our subcontinent.
And through this, Sheer Khurma might get introduced in India along with the Mughals, Turks, and other communities who visited India for trading or other purposes.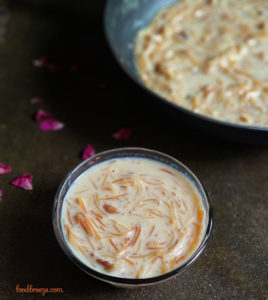 Sheer Khurma Ingredients:
The main ingredients in this recipe are dates, milk, and vermicelli. Apart from that, a lot many dry fruits and nuts are added which increases the richness of the sweet-savory. In fact, Sheer Khurma is also known for the dry fruits used in it.
Many regional varieties have saffron, cardamom powder, cinnamon powder, and rose water included in this recipe.
Here I have used almond, cashew, raisins, and dates. All of these dry fruits are easily available in one's kitchen. You can also use walnuts, badam or peanuts, dried apples, cherries, and even dried dates.
If you are planning to use dried dates in Sheer Khurma recipe, make sure to soak the dates in water for at least 2-3 hours. Soaking the dates in water would help in softening the same and at the same time will make it easier to blend in milk while cooking the pudding. Otherwise, the dried dates would be a bit thicker and chewy and will not get cooked well in milk.
Chironji is another common ingredient that is used in this savory. But it is rarely available in the market. Or sometimes we may run out of this dry seeds. In that case, we can skip Chironji in our pudding. It is quite similar and often used as an alternative to almonds in many sweet dishes.
Chironji is believed to be a natural coolant, keeping our bodies cool in hot summers.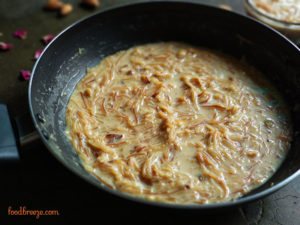 Can we add milk powder or khoya in this recipe?
Yes, you can use powdered milk or khoya (Mawa) in preparing this sweet dish.
In the traditional recipe, milk is simmered and thickened naturally on the gas stove (low flame) gradually. This process is a little time-taking.
But, if you are in a hurry or just want to reduce the cooking time, you can simply use boiled milk. Along with that, make sure to add milk powder or condensed milk (that is easily available in the markets in cans).
You can also use milk khoya, either homemade or store-bought in this recipe. These milk add-ons will not only save your time but also enriches the taste and texture of the pudding. It will help to thicken the milk faster and will add yumminess to your dish.
Dates as the key ingredient –
Dates serve the most significant part of this recipe. We used to see the Muslims have a tradition of breaking their fasts during Ramzan by eating dates in the evening.
These fruits are quite popular in these years. But it is being consumed for a long time back.
It is said that earlier people used to cook a wholesome sweet dish using dates with milk. They did not use any artificial sweetener (not even sugar) in this dessert. However, as time passes by several variations have been included.
Nowadays, we use sugar or jaggery or any other sweeteners. On this note, I want to state that please make sure to add the appropriate amount of artificial sweeteners. Because dates itself contain enough natural sweetness.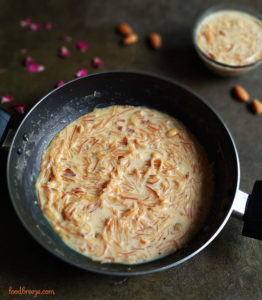 The fruit is available in both fresh and dried forms. You can add any of these.
Being highly nutritious and high in fiber content, Dates contain several vitamins and minerals such as phosphorus, potassium, calcium, and magnesium.
Dates are also known to help with digestion and can prevent an upset stomach. Also, it boosts the energy level in our body in very little time. This is one of the main reasons why people tend to eat dates after day-long fasting.
Some quick tips:
Please note the following few points:
While simmering, you can add the fresh ripened dates into the milk.
Or you can fry the chopped dates (chop the dates after removing seeds) in ghee. Then add these fried dates in the thickened milk later on along with other dry fruits.
Also, make sure to add enough milk in the recipe. Since the vermicelli pudding thickens on cooling.
This rich and aromatic dish is served as a dessert mainly in all households. However, many people have it at breakfast also alongside pooris or parathas.
Serve it any way you want. Be it hot, warm, or cold, Sheer Khurma can truly add joy on any occasion. I personally like to have it warm.
Other sweet dishes that you may like: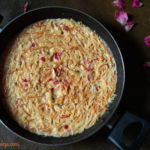 Print
Sheer Khurma Recipe
Sheer Khurma is the true essence of festivities such as Eid. Traditionally, this dessert recipe is made of milk, vermicelli (also called Seviyan), and dates.
Ingredients
120-130

grams

Vermicelli or Seviyan

3-4

tbsp

Ghee or Clarified Butter

700-800

ml

Milk

3-4

tbsp

Jaggery Powder

If using sugar, you can use 4-5 tbsp sugar depending on the taste.

1-1.5

cup

chopped Dry Fruits (including Raisins, Almonds, Cashews)

You can add pistachios, chironji and other dry fruits.

5-6

Dates (chopped)

1-2

tsp

Cardamom powder or crushed Elaichi

(optional)
Instructions
How to prepare Sheer Khurma - Step by Step Recipe:
Take a pan, heat some ghee in it. Add the chopped dry fruits along with the dates. Fry those for 1 minute or two. After frying, keep those aside.

Now take a heavy-bottomed pan and take some ghee.

Add the vermicelli in the pan.

Fry the vermicelli with occasional stirring. on medium flame.

After around 5-8 minutes, the vermicelli will turn into a nice brown color. Also, your kitchen will get fill with a nutty aroma.

Now, slowly add the milk into the pan.

Allow the milk to boil on medium flame. Stir it occasionally so that it does not stick to the bottom of the pan. Now add the dry fruits and nuts along with the dates that were roasted in ghee earlier.

Mix all well. Let it thickens a bit. Make sure not to thicken the milk too much because once it starts to cool, the milk will become thickened and soaked further.

Now, at this point of time, add the sugar and let it simmer for a minute or two. After that turn off the flame.

If you are going to add jaggery, then make sure to add it after turning off the flame. Otherwise, the milk might curdle.

Mix the jaggery well into the pudding. Also, add a teaspoon of cardamom powder (Elaichi powder). Cover the pan with a lid. Allow the jaggery to dissolve completely.

Sheer Khurma is ready to serve hot. Garnish it with some chopped raisins and almonds.