Sattu ki Kachori is a special type of kachori that is stuffed with sattu and some spices. It is a popular dish in the Northern and Central parts of India.
Sattu is nothing but the powdered form of roasted black chana or chickpea. There are different kinds of sattu available. It is also made out of barley, maize, and even a mix of all such grains.
Kachori is based out of the northern regions of the Indian subcontinent. It can be called a staple food in these areas. Though there are lots of variations in the preparation procedure and the stuffing used in Kachoris as we move from place to place.
Regional variations of Kachori:
Some of the widely popular kachoris are like Sattu Kachori, Matar Kachori (stuffed with matar or green peas), Heeng Kachori, Dal Kachori, and many more. Delhi and adjoining areas have another kind known as 'Raj Kachori'. It is served with hot and sweet spices and curd.
In Bengal, we call it Kochuri and we tend to serve it along with some potato curry or Aloo Dum. This is a popular street food all over Bengal including Kolkata (Calcutta). One can easily find Sattu kachoris or Khasta Kachoris upon roaming around the streets of Calcutta.
We generally have Sattu kachoris at breakfast at my place. But one can serve the same during lunch or dinner as well. It is a filling meal and very satisfying.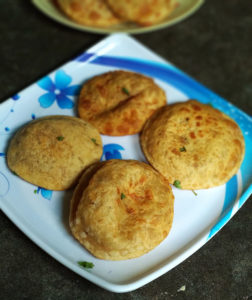 When round flour balls stuffed with sattu or chickpea powder mixed with spices are deep-fried in oil, Sattu kachoris are made. The flavorful spices such as Heeng (asafoetida), cumin & coriander powder, red chili powder, chat masala or amchur powder gives a nice & subtle taste to these kachoris.
I personally prefer to have these kachoris with potato curry. But you can serve it with any other options suitable for you. Other accompaniments could be Aloo Chana curry, Ghugni, Aloo soybean curry, Aloo Matar, etc.
The recipe requires a bit more time. You need to prepare the sattu stuffing first and then fry the flour balls in oil. Here I have provided my version of the recipe. The same stuffing can be used in sattu paratha or sattu rotis as well.
You can store the extra stuffing in an air-tight container and refrigerate the same for as long as two weeks.
So without much delay, let's start with the recipe.
Print
Sattu ki Kachori
Sattu ki Kachori is a special type of kachori that is stuffed with sattu and some spices. It is a popular dish in the Northern and Central parts of India.
Ingredients
For the Sattu based stuffing:
1-2

tbsp

Oil

1

tsp

Fennel seeds

1/2

tsp

Heeng or Asafoetida

1-2

tsp

chopped green chilies

1/2

tbsp

Ginger paste

2-3

cups

Sattu or chickpea flour

1

tbsp

roasted Cumin & Coriander powder

1/2

tbsp

Turmeric powder

Salt as per taste

1-2

tbsp

Water
For the dough making:
4-5

cups

Maida or all-purpose flour

4-5

tbsp

Ghee or Oil

Salt as required

Water as required to knead the dough

Oil for deep frying
Instructions
Preparing the Sattu based stuffing:
Heat some oil in a pan. Temper it with some fennel seeds or Sauf and Heeng.

Add ginger paste, chopped green chilies into the pan. Saute it for 2-3 minutes on medium flame or until the ginger is cooked properly.

Now add the sattu and also sprinkle some salt, roasted cumin & coriander powder. You can also add a pinch of garam masala and chat masala.

Also, add a little turmeric powder to it. Mix all the ingredients well.

Cook the sattu along with the spices on medium flame until the raw flavor is gone. You will see the sattu color changes to a light brown.

Keep aside and cool the sattu mixture.
Making the Dough:
For dough making, take maida or flour in a large mixing bowl. Add a little salt and oil.

Now with the help of water, knead a smooth and soft dough. Let it rest for 5-10 minutes.
Frying the Kachoris:
Take out some portion of the dough. Roll it on your palm. Make a small hole at the center of the dough ball. Put a little sattu mixture as shown in the image.

Now try to close the mouth of the dough ball by joining the edges together. Make sure the job is done well so that the stuffing doesn't come out.

Follow this process and prepare the remaining dough balls.

After that, take a ball. Grease it with a little oil or maida. Roll it out with a rolling pin very softly and carefully in light hands.

Roll out the other balls in a similar manner.

After all the balls are rolled out nicely, heat some oil in a deep frying pan. Here I have shallow fried the kachoris. However, if you want to deep fry it, add some more oil so that the kachoris immersed completely in oil.

Add one kachori into the heated oil. Fry one side for a minute.

Flip the other side and fry the same properly. The color will be a nice golden brownish.

Cook the remaining kachoris similarly. Serve it hot with any side dish of your choice.