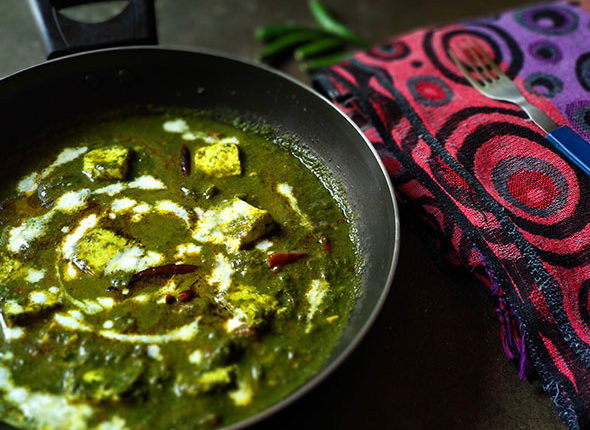 Palak Paneer Recipe is one of the delicious Indian Paneer recipes. Palak is basically 'Spinach' and Paneer means 'Indian Cottage Cheese'. So this dish is a simple and quick combination of spinach and paneer.
In India though there are a lot of paneer recipes prevalent. Among which, 'Kadhai Paneer', 'Shahi Paneer', 'Matar Paneer' are worth to mention.
Well, Palak Paneer is the most common and all-time favorite at my home.
The key ingredient of the Palak Paneer recipe is the Palak or Spinach. The cubed paneer pieces are dipped and cooked in a thick creamy spinach sauce. Alongside the added Indian spices increase the taste and flavor of the dish.
I love Palak Paneer with Roti (Indian flatbread) or Paratha (fried Indian flatbread). It can be consumed with Naan bread or 'Jeera Rice' as well.
This green recipe can be prepared in several ways. I do not claim my recipe as the authentic one. But yet this is another variation which I follow generally.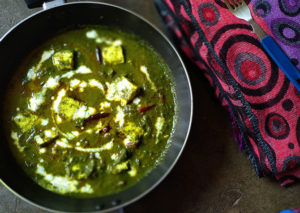 Spinach or Palak leaves are loaded with healthy nutrients. It is a good source of many vitamins and minerals such as Vitamin A, Vitamin B, Vitamin C, Magnesium, etc. Being a high content of Iron, spinach when mixed with Paneer, it becomes a boon in respect of the healthy benefits.
Paneer is a good source of protein and boosts weight loss. It also aids in the digestion process and keeps our heart healthy.
Thus, Palak Paneer is an amazing healthy yet yummy recipe which can be enjoyed by people of all age group. It is one of the best dishes to feed children who are not very fond of eating leafy greens. Since the green leafy veggie is blended to a smooth paste, it will become easy in convincing children to eat this.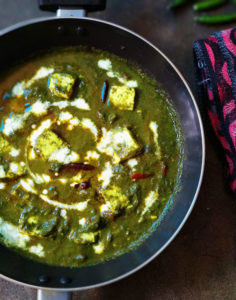 Variations in the method of processing the Spinach or Palak:
The most common method of processing green spinach leaves is said as 'Blanching'. It is a method used to preserve the green color of the palak leaves intact. In the process of Blanching, the spinach leaves are first cooked in boiling water for a minute or two. Then it is immediately transferred to ice-cold water to lower down the temperature. After that, we use to grind the leaves to make a smooth paste.
In a different variation, many of the people stir fry the Palak leaves (after rinsing it well in water) for a couple of minutes in a pan using mustard oil. Then they blend it in the grinder.
In my recipe, I have followed the Blanching technique since I find it healthy and easy.
Can we use homemade paneer in this recipe?
Obviously, we can use homemade paneer in this recipe. Homemade paneer or cheese is comparatively softer than the store-bought ones. That is why people tend to prepare paneer at home and then use the same in Palak Paneer.
However, you can also use store-bought paneer to prepare the recipe. This will lessen the preparation time as well as make the recipe a bit easier.
To beginners, I would suggest going for any kind of paneer which is easily available in the market.
Healthier Version of Palak Paneer:
Although the traditional Palak Paneer recipe goes with butter and cream. You can always replace those high fats with other healthier options.
Like, I have replaced the butter with desi ghee (clarified butter called Ghee in India). Even you can use mustard oil or simple vegetable oil.
Heavy cream is used to make the gravy a thicker one. Though, you can do the same without compromising on taste using Coconut milk, or cashew nut paste.
Even you can use the Malai which is accumulated while boiling milk.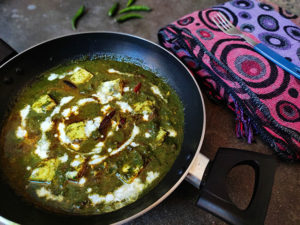 Some quick tips to prepare the Palak Paneer Recipe:
Always use fresh and tender spinach (palak) leaves in this recipe. It will enhance the tenderness of the dish.
Try to follow the Blanching technique to cook the spinach leaves. Many of the chefs also suggest this method.
The paneer pieces can be roasted prior to using those in the recipe. But if you like soft paneer in the curry, simply omit this step.
You can grind the spices such as ginger, garlic, tomatoes along with the palak leaves before putting into the gravy. However, if you want some sort of crunchiness, then just chop the spices into small pieces and use them directly while cooking.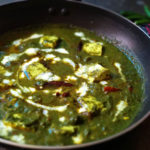 Print
Palak Paneer Recipe
Palak Paneer Recipe is one of the delicious Indian Paneer recipes. Palak is basically 'Spinach' and Paneer means 'Indian Cheese'.
Ingredients
200

grams

Palak or Spinach leaves

150

grams

Paneer cubed into pieces

1/2

teaspoon

each of chopped Ginger and chopped Garlic

2

Green Chilies

1

small-sized

Tomato chopped

1

medium-sized

Onion chopped

Salt, Sugar (optional), Turmeric as required

1/2

tablespoon

Coriander and Cumin powder

1/2

teaspoon

Red Chilly powder (optional)

1/2

teaspoon

Cumin seeds

1-2

dry red chilies

3-4

tablespoon

Ghee or Vegetable Oil
Instructions
How to prepare Palak Paneer - Step by Step Recipe
Blanching and Blending the leafy greens:
Wash the spinach leaves very well in water. Now take a pan, boil some water in it.

Put the palak leaves in the boiling water.

Cook those for 2-3 minutes. Turn off the flame.

Place the leaves immediately in cold water (Blanching). Let it cool down. This will take around a minute or so.

As soon as the leaves cool down, take those in a grinder. Add 2-3 tablespoon of water in it.

Blend it into a smooth green paste.
Cooking the gravy:
Heat some ghee in a kadhai or pan. Temper the oil with some dry red chilies and cumin seeds.

Add the chopped ginger and garlic pieces into the heated oil. Also, add the chopped green chilies.

Let it fry until golden brown and the raw flavor of the spices is gone.

Now add the chopped onions. Stir fry the same till it turns into a nice brownish color.

Meanwhile, cut the paneer pieces. Make it of medium-sized. Do not make the pieces too small.

After the onions are fried nicely, add the chopped tomatoes.

Sprinkle some salt and saute the veggies for 2-3 minutes till the tomatoes become soft and mushy.

When the tomatoes are cooked well, now is the time to add the spinach paste.

Pour the spinach or palak leaves paste into the pan.

Add some water and also add some turmeric, red chilly powder. Mix all well and let it cook for 5-7 minutes or till it boils.

When the gravy comes to boiling, add the paneer pieces gently.

Mix the pieces carefully into the gravy so that those are well covered with the spices. After that, add half a tablespoon of mixture of coriander and cumin powder.

Cook the gravy along with the paneer cubes for 10-12 minutes or till it turns into the desirable consistency.

Palak Paneer is ready to serve with Roti or Naan. Enjoy! 🙂