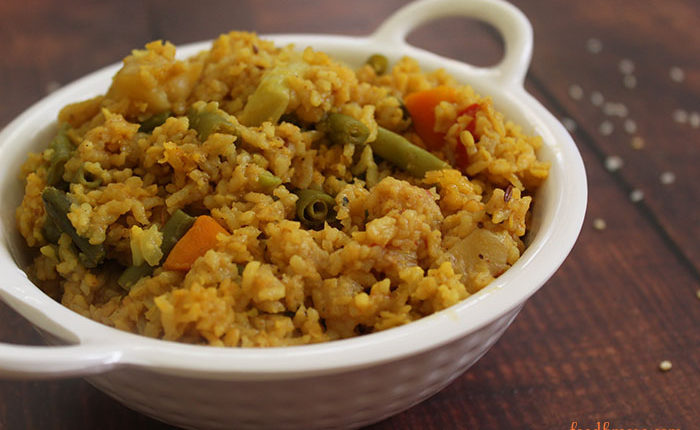 Khichdi Recipe is a simple one-pot meal that is eaten in almost every part of India. It is prepared from rice and dal only (preferably Moong Dal).
Khichdi is one of the easy Indian recipes. It is considered one of the first solid foods that babies eat. Even it is good for sick people who are recovering from illness.
Doctors also recommend Khichdi to them. Since the Khichdi recipe is prepared from Moong Dal that is light on the stomach. This makes it easy to digest.
Khichdi recipe is an easy one for hostellers or bachelors who stay away from home like me. They just need two ingredients to cook this wholesome meal.
I remember when I left home for my job and started to stay in a far city alone, my mum used to tell me to cook just Khichdi in a pressure cooker. When nothing is at home and you are just feeling lazy to go out, Khichdi is the quick option.
Though I cook Khichdi very often as it is prepared in no time with minimal ingredients. Also, it does not compromise on the taste & diet.
I try to maintain a healthy diet and I know people presume that healthy foods do not taste that great. But trust me, the Khichdi Recipe which I have shared here is not only healthy but also tastes yummy.
Origin of Khichdi:
The term 'Khichdi' is derived from Sanskrit word khiccā, a dish of rice and legumes. This dish is said to have originated from the Indian subcontinent only. Since ancient times, our ancestors have been cooking Khichdi which is now seen in many variations in different regions.
The basic recipe remains the same. Only the flavor varies as per region due to the spices used.
Regional Variations of Khichdi recipe:
Khichdi recipe is a very common staple food in many Indian states such as West Bengal, Bihar, Orissa, Maharashtra, Gujarat and, many more.
We Bengalis prepare this dish along with some vegetables like Cauliflower, Potatoes, Carrots, Green Peas, Beans, etc. Hence, making the dish a bit more nutritious.
However, in other regions, people generally prepare the Khichdi recipe using rice and dal only. Some of them use potatoes also.
It is also prepared with some non-veg items such as mutton or beef. Those become Non-veg Khichdi with enhanced taste.
Health benefits:
Due to the presence of Moong dal in it, the dish is highly nutritious. Moong Dal is highly packed with protein and at the same time low in calories. Thus, making this comfort food a bit step higher on the health scale.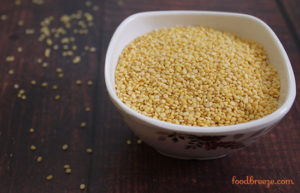 The vegetables added alongside also aids in the nutrient content of Khichdi.
Serving options:
I personally prefer Khichdi with some fresh curd or maybe pickle or chutney and crispy Papad. Although you can just have Khichdi without any side dish or add-ons.
In Bengal, people like to serve it along with Beguni (Brinjal coated with a light spicy batter deep fried in Oil), Chutney, Papad, or even an Omelet. Khichdi is also offered during Puja and occasions to the deities. We call it as 'Bhoger khichuri'. It tastes like heaven.
In other non-Bengali regions, people mostly like Khichdi as it is. Sometimes, they eat it with homemade pickles or some fresh salad. Many of them use to top it some Ghee or Butter as well.
You can have it with any of these options whichever you like.
Now let's get started with the recipe. It is a very basic one cooked in a pressure cooker. I have used some vegetables here. You can alter the veggies as per the availability or you can just omit it and grab the same with a tablespoon of ghee on top of it.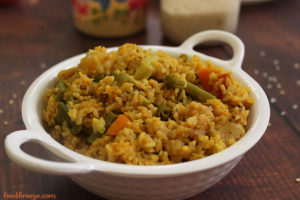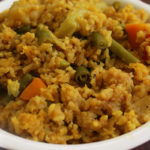 Print
Khichdi Recipe
Khichdi Recipe is a simple one-pot meal that is eaten in almost every part of India. It is prepared from rice and dal only (preferably Moong Dal).
Ingredients
1.5

cups

Gobindobhog rice or any rice available with you. You may use any short-grained rice or even Basmati rice.

1

cup

Moong Dal

1

Tej Patta or Bay Leaf

1/2

tablespoon

Cumin Seeds or Jeera

1

small bowl

Cauliflower cut into small pieces

1

small-medium sized

Carrot chopped

1

medium-sized

Tomato

2

small-sized

Potatoes cubed

4-5

Beans

2-3

Flat Beans or Sheem (in Bengali)

8-10

Green Peas

Salt and Turmeric as required

1

tablespoon

Cumin and Coriander powder

1

tablespoon

Ginger & Garlic paste

4

cups

Water

3-4

tablespoon

Ghee or Oil
Instructions
How to prepare Khichdi - Step by Step Recipe
Rinse off the Rice grains very well with water. Keep it aside for drying.

Rinse the Moong Dal in water and keep it aside.

Chop the vegetables into small pieces and wash well in water.

Heat a Pan or Kadhai and dry roast the rice and dal for 3-4 minutes. Frying the rice and moong dal will enhance the flavor of the Khichdi.

Now take a pressure cooker. Heat some ghee or oil and temper it with a bay leaf and cumin seeds.

Add the potatoes and cauliflower first and fry those till slightly golden brown. This will take around 3-4 minutes depending on the quantity used.

After that, add the rest of the vegetables. Fry them for about 4 minutes with occasional stirring.

Then goes in the salt, turmeric and, coriander and cumin powder.

Add the ginger and garlic paste to the cooker. Mix all well with the vegetables.

After about a minute or two, add the dry roasted rice and dal in the cooker. Mix all the ingredients very nicely and carefully.

Finally, after a minute of mixing, pour the water. The amount of water should be double as compared with the rice and dal.

Cover the cooker with lid and let it cook for 1-2 whistles. Turn off the flame and allow the cooker to release all its pressure on its own. After that only, open the cooker.

The Khichdi is ready to serve. Enjoy the awesome meal with any of the suitable options mentioned above. 🙂

Please do try this recipe and let me know in the comments section below how this turned out.
Notes
You can make this recipe in a Kadhai if you do not have a pressure cooker with you. In that case, the time will take a bit more to cook. Also, make sure to stir the khichdi while cooking very well so that it does not stick to the bottom of the pan.
Always keep in mind the amount of water used in preparing Khichdi. It is generally followed in the ratio:- Rice&Dal : Water :: 1 : 2