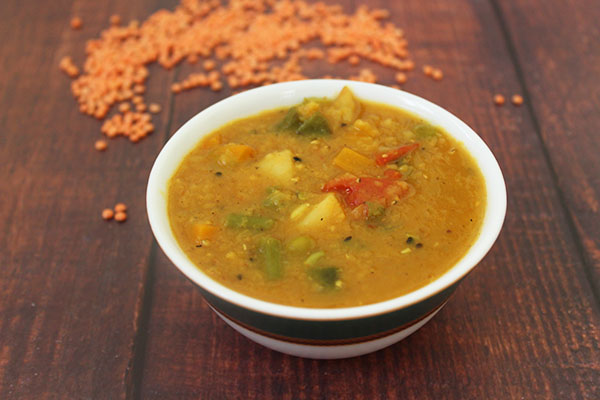 Masoor Dal is a common Indian recipe prepared from Massor or red Lentils. It is a simple yet delicious curry that can be cooked in no-time.
There are different types of pulses or Daal available in the Indian subcontinent. Such as Masoor Dal, Chana Dal, Urad Dal, etc. Among all of these, Masoor Dal is one of the staple foods that we cook in the usual days.
The most common way of preparing dal is in the form of a soup to which onions, tomatoes, and various spices may be added. Even you can just simply boil the dal and tempering it with some whole spices. Both ways the dal tastes good.
Nutritional benefits of Masoor Dal:
There is no doubt regarding the nutritional benefits of Masoor dal. Being a good source of plant protein, it helps to stabilize blood sugar level. This dal keeps the heart healthy by lowering cholesterol. Besides, it has anti-aging properties, nourishes bones, and teeth.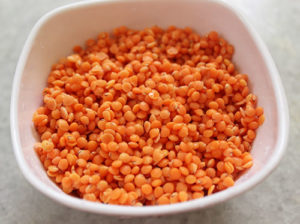 This delicious recipe is a very easy one. One can prepare it within half an hour. Also, the added vegetables increase the nutrients in it.
If you are looking for a wholesome dish that is not only healthy but also tastes great, Masoor dal with veggies is a good choice.
The dish feels amazingly light on the stomach. Yet it will help you keep fuller for a long time. Thus, aiding in weight loss.
You can have a bowl of this dal at any of the meals, be it lunch or dinner.
I prefer to pair it with Rotis or maybe with some steamed rice and pickle. Though sometimes, I just grab it without any carbohydrates added to my menu.
Whenever I prepare this dal recipe, I usually make it in a larger quantity and store it in the refrigerator for 2-3 days.
You can also pack the same for lunch boxes along with Roti for your family members.
The Masoor Dal recipe does not demand many fancy ingredients. The regular vegetables can serve the purpose. You can add whatever veggies available as per the seasonal varieties.
Without much delay, let's start with the recipe.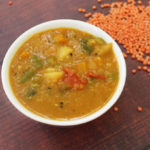 Print
Masoor Dal Recipe with Veggies
Masoor Dal is a common Indian recipe prepared from Massor or red Lentils. It is prepared from Masoor dal along with seasonal vegetables.
Ingredients
1-1.5

cup

Masoor Dal or Red Lentils

4

cups

Water

1

small

Potato

1

medium-sized

Carrot

4-5

Green Beans

1

medium-sized

Tomato

2-3

Flat Beans

1

small bowl

Green Peas

1

tablespoon

mixture of Cumin and Coriander powder

Salt and Turmeric as required

2-3

tablespoon

Vegetable Oil or Ghee

1

Bay Leaf or Tej Patta

1

teaspoon

Cumin seeds or Panch Phoron
Instructions
How to prepare Masoor Dal with Veggies - Step by Step Recipe
First of all, wash the masoor dal or the lentils very well in water. Keep them aside.

Heat some oil in a pressure cooker. Temper it with a bay leaf, some cumin seeds (or Panch Phoron) and a dry red chilly (optional).

Now, add the potato cubes into the cooker. Fry it till slightly golden for about 2-3 minutes.

Frying the potato prior to adding the veggies will enhance the flavor of the daal.

After that, add in the chopped vegetables except the tomatoes in the cooker. Saute those for a minute or two.

Then add the tomatoes and mix them all well. Since tomatoes do not take much time to cook, that is why we have added them later.

Saute the veggies for 2-3 minutes or so. Then add the turmeric powder and salt into it. Mix all the ingredients well so that the veggies are well coated with the spices.

Now add the masoor dal in the cooker.

Mix them all nicely and saute for a few seconds.

After that, add the coriander and cumin powder as well. You can add 1 teaspoon of grounded pepper also.

Finally, goes in the water (2 cups water) and cover the cooker with the lid. Pressure cook the dal till 3-4 whistles on high flame.

Turn off the flame and wait till the pressure is released from the cooker.

Masoor Dal is ready to serve. Enjoy this delicious recipe with some steamed rice or with phulka rotis.
Notes
You can cook the dal in a kadhai if you do not have a pressure cooker. This will take some more time in the kadhai to cook the dal along with the veggies.
The amount of water added in the cooker should not be much, otherwise, it will be too watery consistency. If you like it that way, then it is fine. But I would suggest adding 1.5 cups of water for 1 cup dal. This ratio is for the cooker only. If you are using kadhai or pan to cook the same, then you can add 3-4 cups of water and boil the veggies and dal. After that adjust the consistency as per your taste.