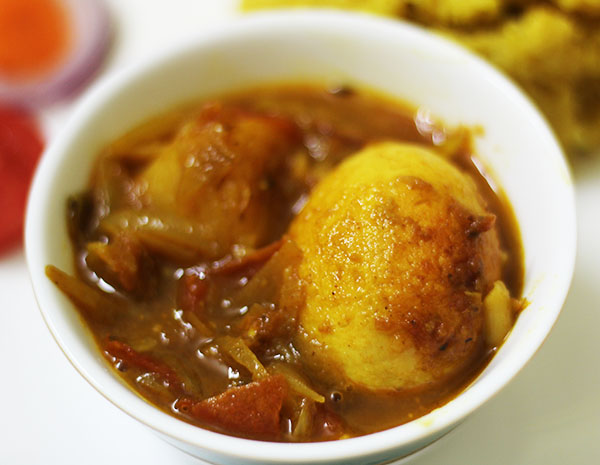 Egg Curry Recipe is one among those dishes prepared on those lazy days. When I'm not in a mood to cook any complex recipes, I just cook Egg curry recipe and that's it.
We all know the nutritional benefits of Egg. Eggs are the most nutritious and healthiest food on the planet. It is being eaten globally.
Eggs are a good source of high-quality protein. The egg white contains more protein and vitamins than the yolk. Also, eggs are rich sources of vitamins (such as Vitamin D, B complex), minerals, copper, zinc, etc.
Egg curry recipe is very easy to prepare and takes minimum time. There are regional variations of Egg Curry Recipe. The recipe which I have given below is the basic recipe and would not require any kind of special preparations.
It's a delicious spicy recipe that you can serve with Rotis, Parathas, Rice, Pulao and many more. Egg Curry recipe is an amazing choice as a side dish.
Also, people who are not fond of chicken/mutton can make this egg curry recipe. Even you can opt for this recipe for lunch boxes when in a hurry to cook.
Let's see the egg curry recipe.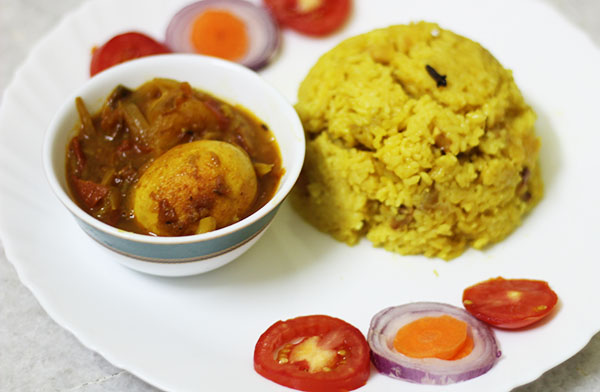 Ingredients:
Mustard oil
Bay leaves 1-2
Cumin seeds /Jeera 1gm
Cloves, Cardamom 2 pieces each
Cinnamon 1 piece
dried red chilies 2 pieces
Cumin powder, Coriander powder as required
Turmeric, Salt as per taste
Hard-boiled eggs
1 big sized onion, 1-2 green chilies
2 small-sized tomatoes
Ginger & Garlic paste 2 tablespoons
1 medium-size boiled potato
Red chilly powder (optional, for that authentic color of the gravy)
Egg Curry Recipe:
Boil the eggs properly (hard-boiled).
Lightly pierce on the eggs with a fork.
Take a heavy-bottomed pan or Kadhai. Put some mustard oil.
Let the oil be heated. After that, add some amount of turmeric and the eggs. Fry it lightly and evenly on all sides.
Keep the fried eggs aside.
Into the same pan, add a little oil.
Temper it with cumin seeds, bay leaves, cloves, cardamom, cinnamon and dried red chilly.
Add sliced onions; fry these until lightly golden on low heat.
Now add tomatoes, green chilies, and salt.
Fry the tomatoes a little along with onions.
Add turmeric, ginger garlic paste, cumin powder, coriander powder. Also, add red chilly powder at this stage if you're using it.
Mix these all and cook it until the raw flavor of the spices has gone.
Add little water in between if the onion & spice mixture becomes dried.
This process may take up to 10-15 mins.
After that, add the boiled potatoes and eggs. Mix those well with the spices.
Pour as much amount of water as you want the gravy to be. [If you want the gravy to be thick, don't add much water.] Cover the pan.
Let it boil for a few minutes on low heat.
Egg Curry Recipe is ready to be served! Please try this quick recipe and let me know how it turned out.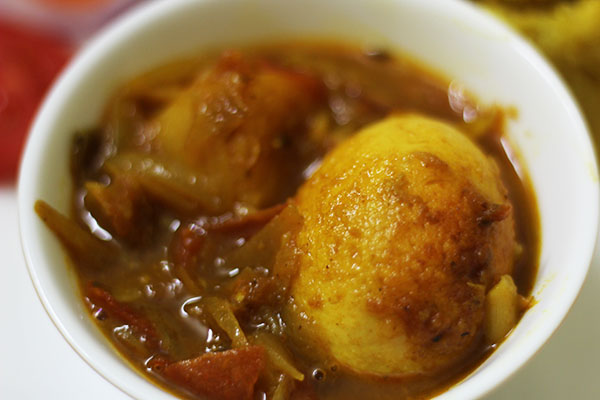 Some quick tips :
Use hard-boiled eggs for this curry recipe. Otherwise, there will be a chance the eggs may break while frying.
You can use the same recipe for making "Egg Kosha", an authentic Bengali dish. For that do not add much water otherwise the gravy will be runny.
Pierce the boiled eggs so that eggs are well coated with spices.
You can add some sugar in this recipe if you like little sweetness.
I have used here sliced onions & tomatoes. However, you can make onions/tomatoes paste in a grinder and replace the slices with this paste.