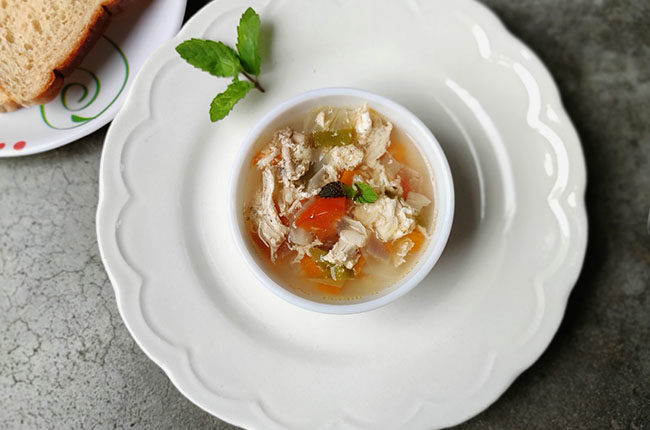 Chicken Soup Recipe is a simple healthy oil-free soup that is simmered using boiled chicken along with the vegetables. Packed with nutrients, this soup is indeed a delicious one.
When I become sick or go down with a fever, my mom uses to make me this soup. This chicken soup really makes me feel better. You too can feed it to your family members or your children and even elder members.
This acts as a natural immune booster. The aroma, spices, and heat from chicken soup could help to cure cold or other respiratory infections. Many useful nutrients such as Magnesium, Iron, Protein, Calcium, Phosphorus, Zinc, etc can be found in the chicken stock which is used to prepare the soup.
But that doesn't mean that only a sick person should have this soup. You can have it during any time of the year, especially during those monsoon evenings or winter mornings.
The Chicken Soup recipe which I have shared here is easy yet tastes amazing. I have learned this recipe from my mother. Though there are many variations of chicken soup recipes, I find this one a bit quick and hassle-free.
The recipe comprises fresh chicken flesh, boiled veggies, and a small number of ground spices. All the ingredients are readily available in any household.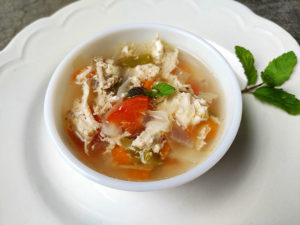 Serving Options for Chicken Soup Recipe:
My recipe does not include any additional fattening agents which are considered unhealthy to our body system. I have not used oil or any such stuff such as butter or ghee. This is purely cooked from natural oil that is being released from chicken flesh itself.
Well, if you want to add ghee or butter, you can always add it before serving. But I prefer to have the soup simply as it is.
You can serve the chicken soup alongside bread toast or even wheat flour roti. That would become a wholesome meal with the added carbohydrates fetched from the bread or roti.
However, you can have the soup only to keep it light on the stomach.
There are a lot of health benefits of chicken soup. The broth or the chicken stock contains many nutrients such as amino acid, collagen, marrow, and minerals. Super low in calories, it is beneficial to those people who are looking for healthy substitutes in their meal. If you are one of such a kind, please do try this recipe.
You can add any kind of seasonal vegetables in this soup. Some of the commonly used veggies are carrot, beans, spring onion, corn, etc. You can add or remove any veggies as per the availability.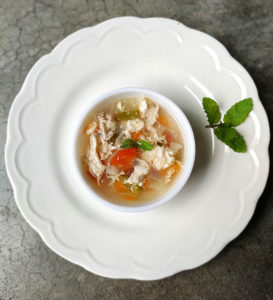 Many people like to have a thicker version of the soup, they can include corn starch in their soup. But I have kept the recipe here simple and pure.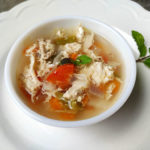 Print
Healthy Chicken Soup Recipe
Chicken Soup Recipe is a simple healthy soup that is prepared from boiled chicken along with the vegetables. Packed with nutrients, this soup is indeed a delicious one.
Ingredients
130-150

grams

Chicken

1

medium sized

Carrot

1

small

Capsicum

1

medium-large

Tomato

1

medium sized

Onion

2-3

Green Chilies

1/2

cup

chopped Cabbage

Salt as per taste

1

tablespoon

Black Pepper powder

1

Egg

Water as required
Instructions
How to prepare Chicken Soup - Step by Step Recipe
Take a heavy bottomed pan. Add water as per the requirement and place the chicken pieces into the water.

Boil the chicken pieces till it gets cooked completely or for about 8-10 minutes on medium flame.

Now, take a pressure cooker and boil all the chopped vegetables till 2-3 whistles.

Meanwhile, strain the chicken and keep aside the chicken stock (Broth). Remove the chicken flesh from bones if any and cut it into smaller pieces.

Also take a whole egg and keep it ready to be used.

After the veggies are cooked and the pressure is being released naturally from the cooker, pour the chicken pieces, the chicken stock and all the veggies in a heavy pan. Add some salt, and black pepper powder. Mix all well. Let it cook for 2 minutes.

Now, beat the egg and pour it gradually into the soup. Make sure to mix the egg with the help of a ladle continuously while adding. It will thicken the soup naturally and will form noodle like structures in the soup.

Cook the soup for another 2-3 minutes and then turn off the flame. Garnish it with some mint leaves or freshly chopped coriander leaves.