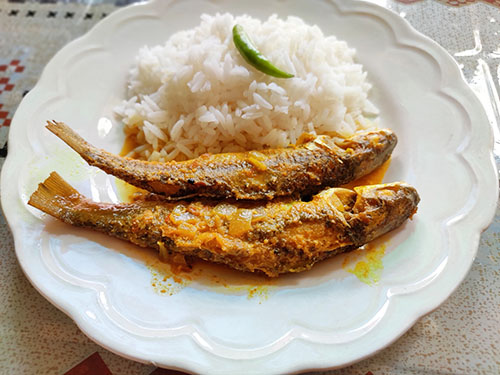 Bengali Fish Curry, also known as 'Macher Kalia' or 'Macher Jhol', is a very very popular dish in Bengal. We Bengalis are known to be fish lovers all over the world.
Bengal is a land with thousands of rivers and ponds. It is notable for being a fish-loving nation, acquiring the name Machh-e Bhat-e Bangali which means, "Bengali by fish and rice".
There are a hundred variations of fish available in the Bengal market. Fish curry is like a staple food in the Bengali community.
We include this dish in our regular food menu. Bengalis eat fish in every form such as fish curry, fish fry, fish chutneys, etc.
The most common fish curry recipes include freshwater fishes. Such as Rui mach (Rohu fish), Charapona, Tilapia or catfish, Chuno, Chitol and many more. These are some of the easily available fishes at any time of the year. One can easily get these fishes in almost every part of India.
Being rich in Omega-3 fatty acids and vitamins such as D & B2 it has a lot of nutritional values and one should include fish in their regular diet.
Fish is also rich in calcium and phosphorus. Additionally, it is a great source of minerals, such as iron, zinc, iodine, magnesium, and potassium.
The Fish curry recipe given here is one of the very basic yet delicious recipes. It requires a minimal amount of ingredients that are easily available in one's kitchen.
I have used here Charapona variety of fishes. It is easily available in the market throughout the year. This fish is relatively smaller in size than the other varieties. Hence, it is much sweeter in taste. It is easy to digest also and full of nutritional benefits.
You can serve Bengali Macher Jhol hot with plain rice and some aloo fries. Please give it a try and let me know how it turned out.
Some quick tips to prepare Fish Curry
Before starting the recipe, please go through the following quick tips that might be helpful.
Handle the fish pieces very carefully. While frying, make sure to turn it gently otherwise it will break.
You can use potatoes or brinjal also in this fish curry recipe. For that fry the potatoes/brinjals before-in hand and keep them aside. Add those in the curry just before adding fish pieces.
Make sure to heat the oil enough. After that only add the fish into it. Otherwise, the fish will stick to the pan.
Also, be careful while frying the fish. As sometimes oil gets sputtered.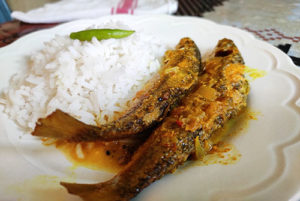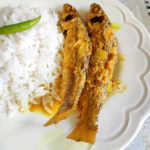 Print
Bengali Fish Curry Recipe
Bengali Fish Curry ('Macher Jhol') is a very very popular dish in Bengal. This recipe requires a minimal amount of ingredients available in one's kitchen.
Ingredients
300

grams

Charapona fish

1

teaspoon

Panch Phoron

1-2

Green Chillies

2

medium-sized

Tomatoes

2

medium-sized

Onions

Sugar, Turmeric and Salt as required

1

tbsp

Coriander powder (Dhania powder/ Dhone guro)

1

tbsp

Cumin powder (Jeera powder)

1

tbsp

Ginger & Garlic paste

40

grams

Mustard oil
Instructions
How to prepare Bengali Fish Curry - Step by Step Recipe
Cleaning & Marinating Fish:
Wash the fish very well. Sprinkle turmeric and salt (1/2 tablespoon each) over it. Mix the pieces well so that the fish gets coated evenly from all sides. Keep it aside for 15-20 mins.
Masala preparation:
Take all the ingredients and grind them to make a smooth paste. The masala ingredients include : Tomato, Ginger & garlic paste, Mustard (optional), Coriander powder, Cumin powder, Salt, Turmeric.
Frying the Fish:
Take a heavy-bottomed pan or Kadhai. Pour mustard oil and heat it.

Wait for the oil to be heated properly and then add fish pieces carefully one by one into the oil.

Fry the fish well on one side and then only alter it. Make sure that the fishes become golden on both sides.
Preparing the curry:
After all the pieces of fish are fried, take the same pan and use the leftover mustard oil.

Temper the oil with Nigella seeds or Panch Phoron.

Now add the sliced onions and fry those until slightly golden.

Add the masala paste and fry it well till the raw flavor has gone.

Mix all well and cook the spices for 3-4 mins with frequent stirring.

After that, pour 1.5-2 cups of water. Let it boil.

Now, add the earlier fried pieces of fish carefully into the water.

Cover the pan. Let it cook for 3-4 mins on low-medium flame.

Finally, turn off the heat. You can garnish it with some freshly chopped coriander leaves. Enjoy it with some plain cooked rice.