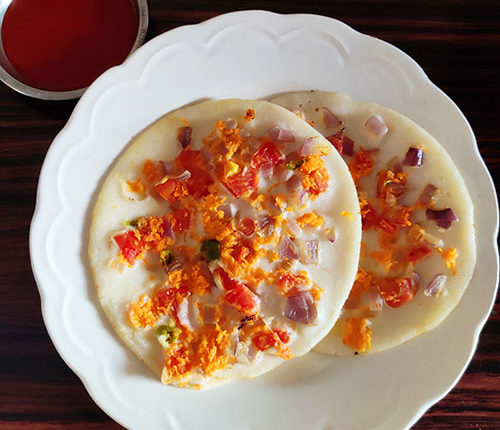 Uttapam or Vegetable Uttapam is a popular South Indian recipe. It is a kind of pancake prepared from rice and dal batter along with some colorful veggies.
Uttapam is a thick pancake-like dish that is crispy from outside and at the same time soft and fluffy from inside.
The traditional South Indian recipe for Uttapam is a bit different. I will be sharing the recipe which I follow while preparing this dish.
Many of the people use the leftover idli batter to make Uttapam on the next day. I usually do not follow this method and prepare the batter fresh, then use it the second day. So you can use the extra Idli or Dosa(Dhosa) batter to make this recipe.
Since it is prepared from rice and lentils (Dal), it's quite healthy and filling. The health-conscious people can also have it included in their diet plan. You can serve Uttapam anytime during any of the meals.
I can have it at Breakfast, Lunch or even Dinner. It is a very light and gluten-free food. The added vegetables increase it's nutrition to the next level.
How to make Vegetable Uttapam?
The whole recipe consists of three consecutive steps that one should follow properly to make a perfect Uttapam. These three steps are:
Soaking the key ingredients – Rice and Urad Dal (Split Black gram lentils)
Grinding the Rice and Dal to make a thick and nice batter
Making Uttapam by adding veggies and spices to the batter
There are many variations of Uttapam. You can put any of the following toppings over it: Onion, Vegetable, Paneer, etc. Even you can have just a simple one without any toppings.
Freshly made coconut chutney or some Sambar Dal is the perfect side dish for this recipe. But when I was preparing it, I did not have any of these combination dishes available with me. So I just served it with some ketchup.
Though the recipe may seem to be a bit complex, do not panic or overthink. It's just that follow the steps sequentially and you will be able to succeed. There is no substitute for patience and hard work. 😉
So let's get started with the recipe.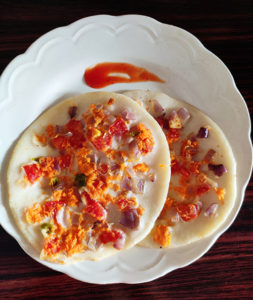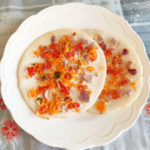 Print
Vegetable Uttapam Recipe
Uttapam or Vegetable Uttapam is a popular South Indian recipe. It is a kind of pancake prepared from rice and dal batter along with some colorful veggies.
Ingredients
400

grams

Rice

I have used here normal rice which I have throughout the year. You can use Idli rice if you want it to be close to traditional.

100-120

grams

Urad Dal

5

cups

Water for soaking Rice and Dal

1/2

tbsp

Methi or Fenugreek seeds (optional)

Soak the seeds along with Rice and Dal

1

medium

Carrot, grated or chopped finely

1-2

medium

Onions, chopped

2-3

Green Chillies

2

medium

Tomatoes, chopped finely

Note: [You can add any vegetable of your choice. It can vary as per the seasonal availability. You can add capsicum, beet, and other veggies.]
Instructions
How to make Vegetable Uttapam or Veg Uttapam - Step by Step Recipe
First of all, rinse the Rice, Urad Dal and Methi Seeds (if using) thoroughly.

Soak all the ingredients in the required amount of water for 4-5 hours.

After that grind them using the wet blade of grinder jar. You can change the water before grinding. I would suggest using the same water in which the ingredients are soaked.

Keep aside the mixed batter in a bowl for about 8-9 hours at room temperature to enable the fermentation. I usually prefer to ferment the mixture overnight.

After 8 hours, check the rice batter if it is fermented properly or not. If it looks a bit thick, you can add 1/2 a cup of water to make the consistency perfect.

Meanwhile, chop the vegetables and take them in a mixing bowl.

Add some salt and turmeric as needed. Mix all the veggies nicely.

Now, take a pan. Heat some oil in it. Turn the flame to low.

Pour gently the batter using a ladle or spoon into the pan.

Now after 30-40 seconds, spread some veggies on top of the uttapam.

Sprinkle some oil over the batter and veggies. This will look like a thick pancake.

Flip the uttapam. Cover the pan with a lid and let it cook on low flame for about a minute.

After 1 min, uncover the pan. Flip the other side and cook for few more seconds if required.

Cook both sides properly. Keep patience and follow these steps to prepare Uttapam for the rest of the batter.

Your Uttapam is ready. Serve it hot with some coconut chutney or sambar dal. You can enjoy it even with some tomato ketchup as well. 🙂
Notes
Here are a few tips which may be useful for you.
The rice and dal batter should not be too thick or too thin. It should be of perfect consistency so that it can be easily poured on the pan.
You should follow the fermentation process strictly. If the batter does not ferment properly, Uttapam might not taste good.
Try to ferment the batter overnight to avoid any hustle and bustle. In this case, you can use the batter easily in the morning to make a healthy breakfast.
Make sure you grease the pan well before cooking so that the pancake does not stick to the pan.
You should try to make the Uttapam a bit thicker like pancakes. But do not make it too thick, in that case, it might remain uncooked from inside.
Throughout the cooking process, keep the gas flame on low. If required, you can modify it to Medium. But try to keep it on low flame, it will enhance the cooking procedure for Uttapam. Otherwise, it may seem from the outside that Uttapam is cooked, but it will not from inside.