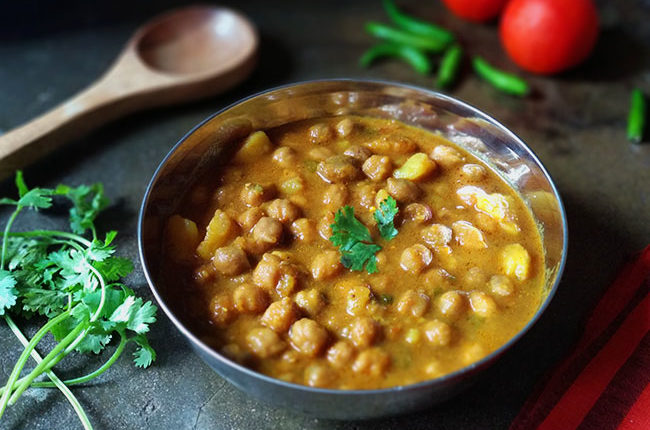 Chana Masala is one of those lip-smacking dishes popular all over India. It is also known as Chole Masala in many regions.
Chana Masala is commonly served with Bature. The combination of these two recipes, known by 'Chole Bature' is appreciated by all Indians.
Chana Masala preparation includes a lot of Indian spices in it. You can use either whole spices or ground them before cooking. Each of the spices should be used in an appropriate quantity to get the perfect taste.
As the name suggests, the main ingredient of this recipe is Chana or Chole. The name Chana varies according to different regions of India. Like in North India it is known as 'Kabuli chana'.
To be more specific Chana is nothing but Chickpea.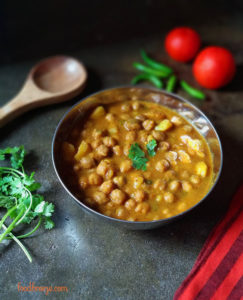 We all know how much nutritional chickpea or Chana is. Since it is a rich source of vitamins, minerals, and fiber, chickpeas offer a variety of health benefits. Such as improving digestion, aiding weight management, and reducing the risk of several diseases.
Additionally, chickpeas are high in protein and make an excellent replacement for meat in vegetarian and vegan diets.
In my family, we generally have Chana Masala with POORI or Parathas or Rotis. I personally prefer it with some Khasta parathas or what we call Lachha paratha.
However, in North India or in Punjab, the dish is served with plain Basmati rice as well. They call it 'Chole Chawal'.
Is Chana Masala difficult to cook?
The recipe is not too difficult. Hence hostellers or beginners can easily try this recipe. I have seen my mother cooking Chana Masala many times. And I just love this quick and easy yet delicious recipe.
However, when I tried it for the very first time, the recipe turned out so good that I started cooking it very often. Though in my daily Chole Masala recipe, I do not use many spices and try to keep it simple.
As a health freak, I would suggest to just keep it as simple as you can. But if you are having it once in a while then it is okay to make it a little spicy and tangy.
Actually the recipe of Chana Masala varies place to place. In a country like India, you would get different taste region wise. The local spices add a unique flavor to this recipe.
I have shared a recipe that I have learned from my mother. I do not claim it as authentic. But I believe if you cook it with all your heart and proper steps, it will turn out good.
Before starting with the recipe, here are a few tips or tricks that might be helpful to you.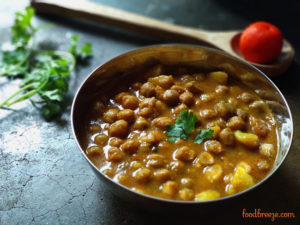 Quick Tips :
The chickpeas or Chole or Chana should be properly boiled or cooked.
I would suggest to pre-cook the Chana or chickpeas. That way your cooking time will be saved.
If you are using pressure-cooker to boil the chana, make sure to cook it until 6-7 whistles.
Many people prefer a dark color in the Chana Masala recipe. For that, you should have to place a teabag while pressure cooking the Chickpeas. Otherwise, you may also add dried Amla (Indian gooseberry) in the same way. If you are not bothered about the dark color, simply cook it using regular ingredients.
Sometimes while boiling the chickpeas in a pan, the water becomes frosty or you may see some kind of scum in it. Remove those with a spoon and continue cooking.
Cooking in pot or pan might take a little more time. However, you can do the same using a pinch of baking soda in it. This will help the chana or chickpeas become soft.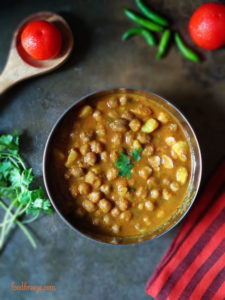 Some more curry recipes that you may like: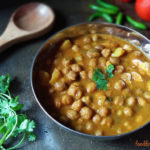 Print
Chana Masala
Chana Masala is one of those lip-smacking dishes popular all over India. It is also known as Chole Masala in many regions.
Ingredients
250

grams

Chana or Chickpeas

1

medium-large

Onion chopped

1-2

medium

Tomatoes

2-3

Green Chillies slit

5-6

cloves

Garlic

1

tbsp

Ginger grated

1-2

Bayleaf and Dry Red Chilly

1

tbsp

Cumin powder

1.5-2

tbsp

Coriander powder

1/2

tbsp

Cumin seeds

Sugar, Salt, and Turmeric as required

1

cup

Curd

1/4

tbsp

Garam Masala powder

5-6

tbsp

Vegetable Oil
Instructions
How to make Chana Masala - Step by Step Recipe
Cooking Chickpeas or Chanas:
Wash the chickpeas very well in water. Soak them in water overnight or at least for 7-8 hours.

After the chanas are soaked well, rinse once again with fresh water.

Pressure cook the chanas till 6-7 whistles so that it gets softened enough. You can use potatoes as well in this recipe. If you are using potatoes, wash properly and boil the same along with the chickpeas.
Making the Masala:
Meanwhile, take the chopped Onions (1/4th part of the Onion is taken here, rest keep aside), chopped Tomatoes, Ginger, Garlic, and 2-3 tbsp Water into a grinder jar.

Grind all of those into a smooth paste.
Preparing Curry:
Heat some oil in a Kadhai or pan. Temper it with bay leaf, dry red chilly and Cumin seeds.

Fry the sliced onions in the oil till it turns slightly golden on low-medium flame. At this moment, you may add 1/2 teaspoon of sugar. This will enhance the color of the onions.

After the onions are fried a bit, pour the masala mixture into the pan. Cook it on low-medium flame until the raw flavor of the masala is gone.

Stir the masala and the onions occasionally so that it does not burn or sticks to the pan.

This will take some time. Cook patiently and keep checking in between. You will get to know the mixture is cooked when you will see oil gets separated from it and also the color of the mixture will turn light brownish.

Now add some turmeric, salt as per taste. Also, add the Cumin and Coriander powder. Mix well.

After a min, add some beaten curd into the pan. Add the slit green chillies as well. Along with that, you might add 1/2 teaspoon sugar to overcome the sourness of the curd.

Cook the mixture for another 2-3 minutes.

Add the cooked chickpeas and potatoes into the mixture. Give it a nice mix so that all the chickpeas and potatoes are coated well with the masala mixture.

After around 2minutes, add enough water. Cover the pan and let it cook for around 10 minutes until the gravy or the curry becomes thick enough as per your taste.

Finally, sprinkle 1/2 teaspoon of Garam Masala powder. Turn off the flame. Garnish it with some freshly chopped Coriander Leaves. Your easy homestyle Chana Masala recipe is ready to serve with Rotis, Rice, or any other suitable options.