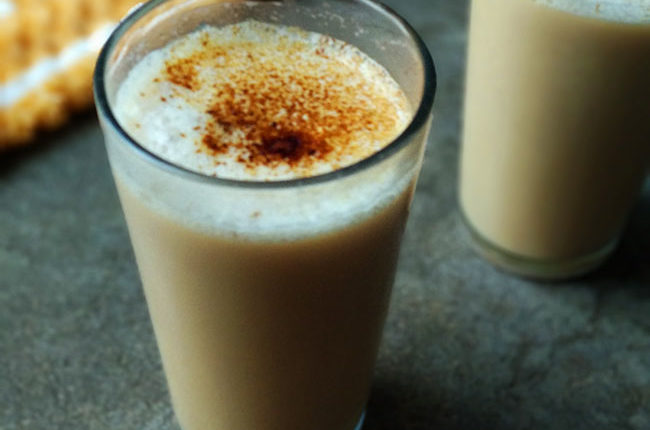 Cold Coffee is a coffee-based beverage served chilled mostly during summers. It is also known as Iced Coffee since ice cubes are used sometimes in it.
The recipe for Cold Coffee does not demand much ingredients. It can be made easily at home in less than 15 minutes. So why go outside and spend so many bucks at the cafe when it can be enjoyed at your own home.
I am a coffee person and I love to try drinks that are made out of coffee. Be it hot or cold, I can sip coffee at any time of the day.
Mostly, Cold Coffee is served during hot summer days with some ice cubes. You can have it with a scoop of ice cream of any flavor or even some choco chips sprinkled over it. Some people like it mixed with chocolate syrup or cocoa powder.
In my recipe, I have not used any add-ons and kept the recipe basic. Because it might happen that these additional ingredients are not available with you. We may not have ice creams or chocolate syrup stored in our refrigerator always.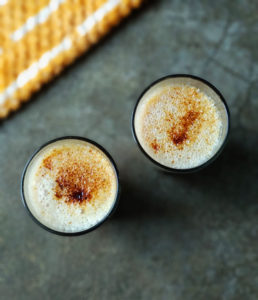 In those cases, you can easily prepare Cold Coffee at home using this recipe. So do try it and treat yourself with some refreshments in the form of coffee. Even you can surprise your coffee lover friends with the help of this recipe.
Variations of Cold Coffee:
This drink can be prepared in several ways depending upon one's choice and regional flavors.
In some places, Cold Coffee is prepared using cold milk, coffee powder along with lots of sugar added in it.
Whereas in some countries, it is being made from coffee-flavored milk, ice cubes, chopped nuts, cocoa powder, choco syrup, etc.
Generally, instant coffee powder is blended along with cold milk, sugar or any other sweetener, 2-3 scoops of ice cream (if available), chocolate syrup.
You can use a scoop of vanilla or chocolate ice cream while preparing it. Or you can use some whipped cream on top of it.
A few quick tips:
In my recipe, what I have done is I have taken some instant coffee powder and sugar in a bowl. I tried to beat the mixture using a little amount of warm water and formed a nice whipped coffee mixture. Then I have blended the same mixture along with milk.
You can simply put all the ingredients: coffee, sugar, milk, and blend all of those at a one go.
If you like to add ice creams, you can add it to the blender itself so that it mixes with the other ingredients.
You can top the glass of cold coffee with ice cream or whipped cream.
The amount of sugar or any sweetener depends upon your taste. Increase or decrease the same as per your choice.
I would recommend using full-fat milk in this recipe to enjoy the same to the fullest. Otherwise, if you are a health-freak but still trying to enjoy the drink, you can definitely use skimmed milk.
Also, you can replace the sugar with honey as well.
Enjoy this refreshing drink chilled. Do refrigerate it for 10-15 minutes at least before serving.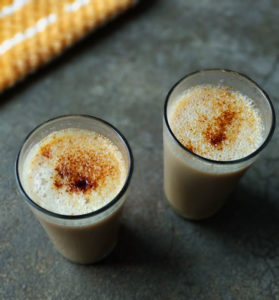 Some other summer drinks that you may like:
Let's see the recipe now and let me know in the comments section below how this turned out.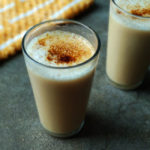 Print
Cold Coffee Recipe
Cold Coffee is a coffee-based beverage served chilled mostly during summers. It is also known as Iced Coffee since ice cubes are used sometimes in it.
Ingredients
2-3

tbsp

Coffee powder

4

tbsp

Sugar

2-2.5

cups

Milk

1

tbsp

Warm Water

3-4

Ice Cubes
Instructions
How to prepare Cold Coffee - Step by Step Recipe
Take the required amount of coffee powder, sugar, and a little amount of warm water in a bowl. I have taken here 2 tbsp coffee, 3 tbsp sugar, and 1-2 tbsp water.

Whisk the ingredients continuously for about 8-10 minutes to form a smooth light brown colored mixture. While beating up, you will notice gradually the mixture will start to change its texture and color. Finally, it would turn into a nice foamy texture.

Now take a blender jar. Pour some boiled and cold milk and the coffee-sugar mixture into it.

Add a few ice cubes if available.

Add some more sugar if you want. Blend all the ingredients well.

Pour the cold coffee in a glass. Serve it chilled!